Now more than ever, contractors rely on state-of-the-art equipment to improve their efficiencies on job sites and stay competitive. The combination of a highly competitive market and skilled labour shortages is pushing progressive companies to invest more aggressively in the latest technologies.
Dig It Contracting Ltd.
is one of those companies.
The Kelowna, B.C.-based company is a full-service civil contractor that prides itself on being a "one-call solution" for services such as water, sanitary sewer, power, cable, table, asphalt, telephone and curb and gutter. Dig It Contracting Ltd. also performs various residential and commercial work, including sewer and septic builds and demolition services.
President Dwayne Flett has a passion for big iron and the technologies that optimize his fleet of more than a dozen machines, including three of his latest investments: a
Komatsu PC290LCi-11
excavator with intelligent machine control (iMC); a
PC360LCi-11
with iMC; and a
Komatsu D51PXi-24
, an iMC-equipped dozer.
Intelligent Investments
Flett says that his investment in Komatsu machines with intelligent machine control has been a critical component of his company's success.
"It's helping us win more bids, for sure."

Having the ability to be on grade all the time, not having to move materials unnecessarily, is a massive advantage that
Komatsu's iMC technology
offers, Flett adds.
Hear what Dwayne has to say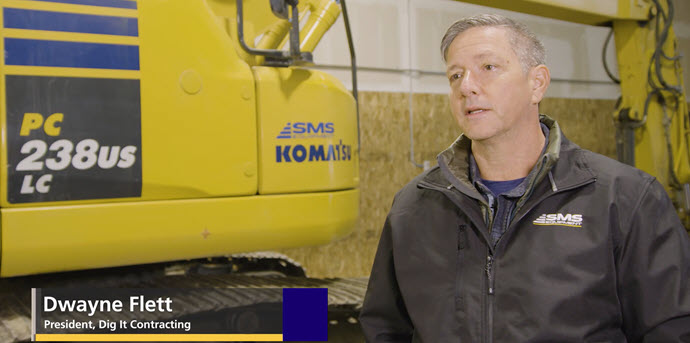 President Dwayne Flett, Dig It Contracting, says that his investment in Komatsu machines with advanced technology has been a critical component of his company's success. Why? Watch the video to find out.
Dig It Contracting Ltd. was introduced to the latest Komatsu technologies during a customer call by SMS Equipment's Jeff Martin (Smart Construction Representative) and Steve Ten Veen (Sales Representative). At the time, Flett was trying to solve an issue with a piece of aftermarket technology for one of his excavators.
"Steve and I were coming by doing some customer visits, and [Flett] was running technology on one of his excavators, and they were struggling with a [modelling]
application," Martin recalls. "We suggested a different way of utilizing the technology that he was using."
"We were on a very technical project, and we only had one chance to do it. So to have that slope and design built into the machine was critical, so the operator didn't have to repeat it or go back and do another cut – because, in reality, there was no opportunity to go back," Flett adds.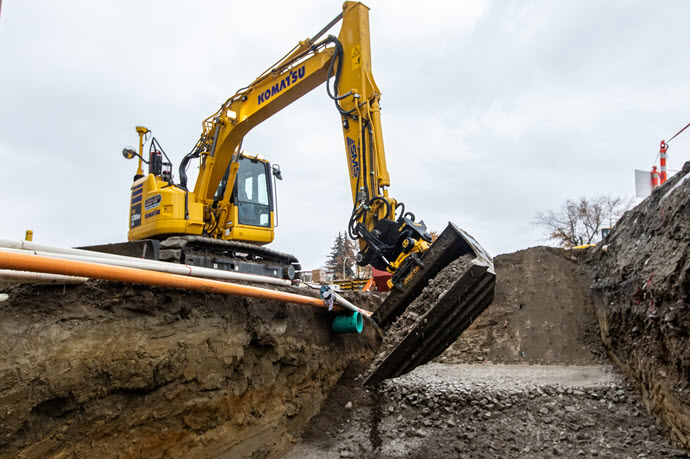 The unique pairing of a zero-tail swing excavator with an Engcon tilt rotator overcomes the challenges of digging in tight workspaces.
SMS Equipment's Solution
SMS Equipment recommended a unique package with an Engcon tilt rotator with grade beam, pallet forks and sorting grapple and aftermarket technology.

The solution allowed his crew to get the project done on time and on budget.

Since that time, Flett has been regularly upgrading his fleet and has invested in Komastu excavators with built-in iMC intelligent machine control.
Komatsu iMC Technology
Komatsu's iMC technology is built directly into the machines and offers a variety of features, including:
Technology that helps train new operators
Working from mass excavation to finished grading faster
Ability to fully integrate 3D design data into your machines to help operators work efficiently, pass after pass
"It's right in the machine, so I don't have to go out of my machine to look at my blueprints or talk to the general manager on site. It's all there. It's a one-stop-shop, and it's exactly what I'm looking for."
says Cole Kendall, General Manager for Dig It Contracting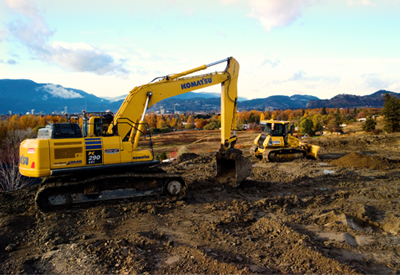 Because of the technology that Dig It Contracting employs on their fleet, they were the natural choice for a repeat customer who is building their dream home.
A One-stop Shop
Dig It Contracting prides itself on having the latest technologies to offer solutions to its clients. Flett says working with SMS Equipment as the contractor's "one-stop-shop" for parts and service has been key to his company's success.

"SMS Equipment has solutions, and Dig It is all about solutions. So, when I look at another company that is like-minded in being able to have solutions, that means a lot," Flett says. "SMS Equipment has been a one-stop shop for us. The service is second to none. They've helped us every step of the way; whether we need something adjusted or need anything else, they've been there for us.The service has been unparalleled."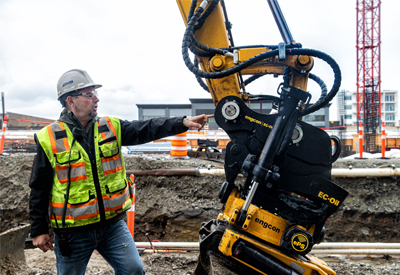 SMS Equipment provides technology solutions that best fit application needs, allowing contractors to complete their projects efficiently.
Flett adds that embracing the latest technologies will be the only way to address skilled labour shortages in the future.
Our labour pool is shrinking; therefore, I think technology is going to help fill that gap," he says, adding that knowing where an operator is at all times is also an essential aspect of iMC. "When the operator looks at that screen, he knows where that footing is. He knows where that pipe is. He knows where the corner of the building is. He knows where he's at, at all times. It's really that simple.
Additional Related Resources
Find more information about iMC technologies and Smart Construction below.