Smart Construction Dashboard
Graphically visualize design, drone, and machine data to measure cut / fills, quantities, and productivity.
Visualize your data and know where you are today to measure and make decisions on where you want to be tomorrow. By combining 3D design data with aerial mapping and intelligent machine data, you can confirm quantities and see progress each day.
Dashboard is designed to be used daily by the contractor's ops team as the go-to solution for visualizing the status of the site.
Visualize your data for actionable results
Confirm pre-bid topographical map is correct
Track project job site progress in near real-time
Document site conditions as evidence for change orders
Quickly and easily measure stockpile quantities
What is iMC 2.0?
Download Smart Construction Dashboard Brochure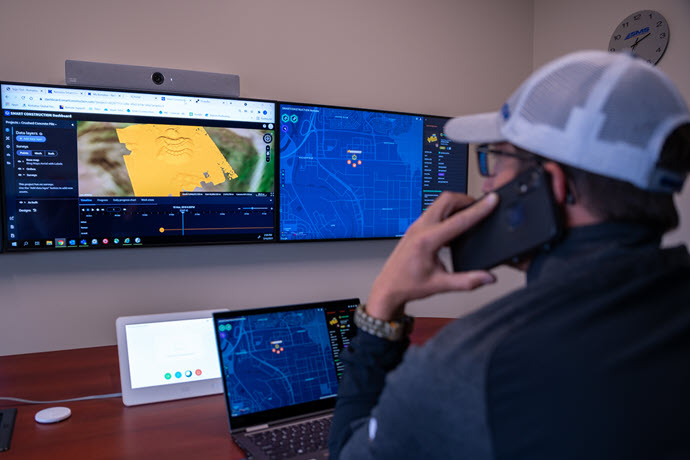 Do you have a stockpile you captured with the drone and want know the volume? Simply click around the perimeter and get your quantity. Want to calculate the cut / fill of the site, design vs. actual, and print out a color-coded grid map? Can do.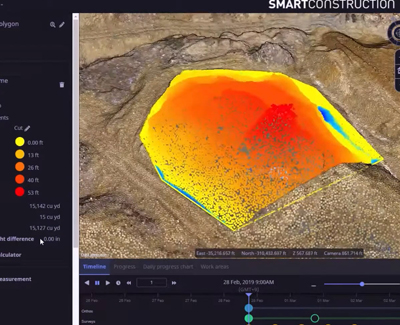 Cloud-based dashboard 3D design data
Visualize your job site in 3D with design data, aerial mapping (drone) data, and machine as-built data all in one easy-to-integrate location. Unlimited number of collaborators and no special program or computer required.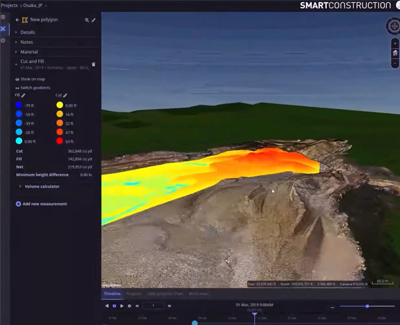 Measure volume quantities
Easily quantify volumetric production measurements for the whole site or defined areas of interest: initial survey vs. design, today vs. design, or comparing any day in-between.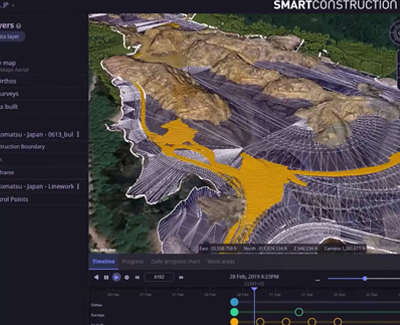 Dashboard stockpile measurements
Users can make stockpile measurements in a snap for material quantities, reporting in terms of volumes, density / mass, and even assigned value.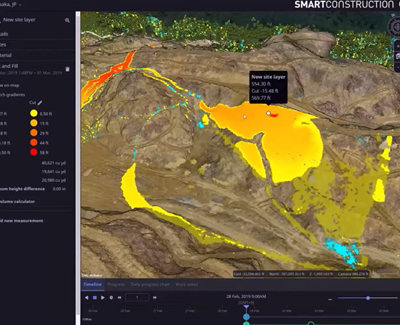 Dashboard site progress
Watch your site progress with timeline functions, including playback, in terms of whole-site visuals, cross-sections, and individual measurements.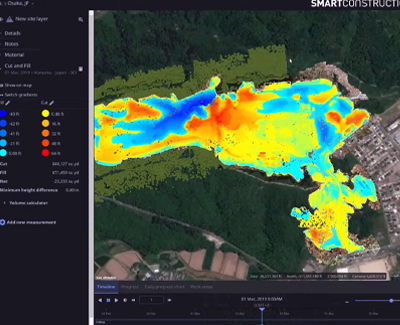 Cut / fill color mappings
Easily generate industry-standard cut / fill color mappings for staff to visualize material movements, creating standardized reports for download, email or print.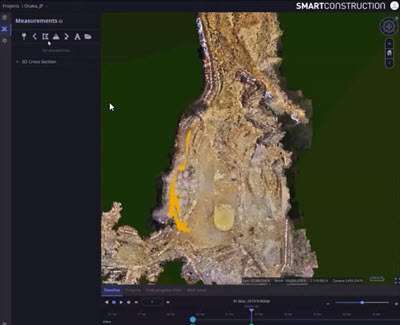 Job site visualization
Better understand the entire job site for better site management using drone data with the 3D viewer that allows you to easily manipulate views.