Genesis
Genesis is a global leader in attachments for the scrap processing, demolition, material handling and offshore decommissioning industries. Their dedication to quality is found throughout their organization to provide high-performing products backed by unmatched customer service.
Read More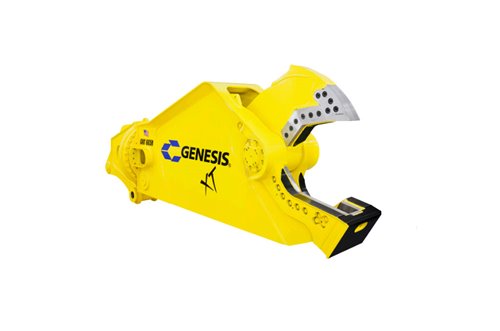 Demolition Shears
The Genesis XT Mobile Shear is designed to process steel and other materials more efficiently in scrap and demolition applications and fit on smaller carriers.
All the power in a shorter, lighter shear
Bolt-on piercing tip encapsulates front of upper jaw, minimizing risk of damage while reducing welding build-up and downtime
Short primary cutting blades position the apex closer to the rear of the jaws and draw material further into the jaws where higher force makes efficient cuts
Lower shear height improves visibility
Download Brochure
Browse all demolition shears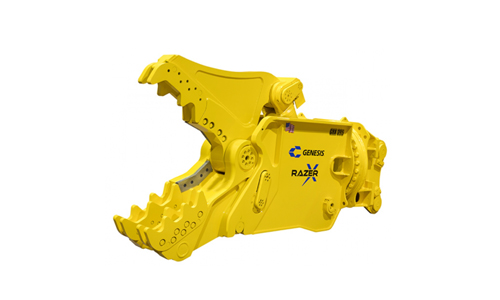 Multi-Jaw Demolition Tools
The award-winning GRX Razer X Multi-Jaw Demolition Tool enables excavator operators to change jaw sets in less than 2 minutes, without leaving the cab.
Hydraulic pin engagement and removal for fast and safer jaw change-outs
Heavy-duty pivot design is integral to the jaw set, providing a power curve to match the jaw's primary application
Reverse-mounted cylinder protects the rod from debris
Short, flat-top head with bolt-on bracket shortens the center of gravity, making it easy to change mounting for different carriers
Available in cracker, shear and pulverizer jaw configurations
Browse Multi-Jaw Demolition Tools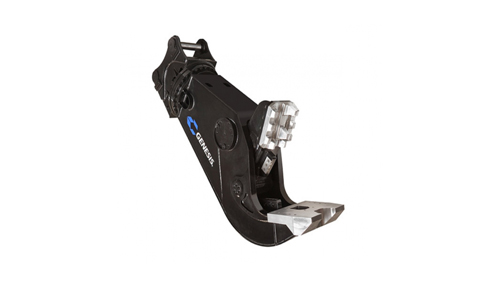 Concrete Pulverizers
The Genesis Concrete Pulverizer (also called a concrete processor) provides crushing force coupled with a large jaw opening for unmatched performance in demolition and concrete recycling applications.
One-piece bolt-on tooth bed is quick and easy to replace
One-piece lower wear pad protects the parent material
Bolt-on rebar cutting blades and weld-in blade pockets are easy to replace, reducing maintenance
Power is derived from a large-bore cylinder, eliminating the need for an intensifier