Durability is key to NPK's hardest hitting hammers
Longevity over 20 years with regular maintenance and service. NPK hammers are lighter-weight and they deliver high impact energy while improving carrier balance. The gas-powered piston creates more impact per blow than any hammer in the industry.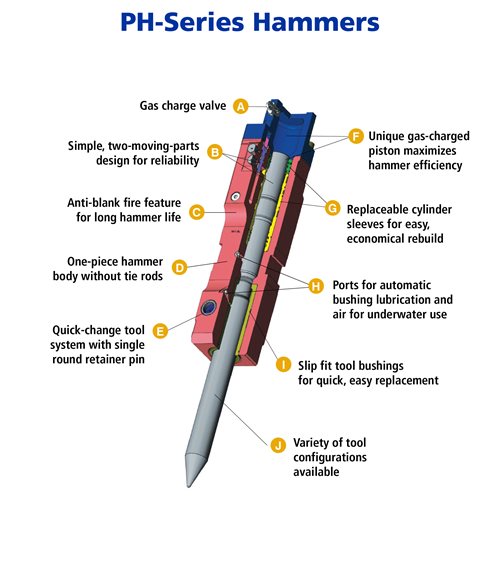 PH Series (Small Breakers)
Designed with over 45% fewer total parts than all previous NPK hammer lines. The decrease in the number of components significantly reduces repair time.

The sleeved one-piece hammer body eliminates the tie rods that were necessary for fastening body components together. A restructured internal valve system is smaller and replaceable sleeves ensure the hammer body doesn't undergo the wear caused by repetitive piston firings.

The PH series features "slip fit" style tool bushings, which are held in place by the retaining pin. This allows the bushings to be quickly and easily replaced, either in the shop or out at the job site, eliminating the downtime that is usually caused by tool bushing replacement.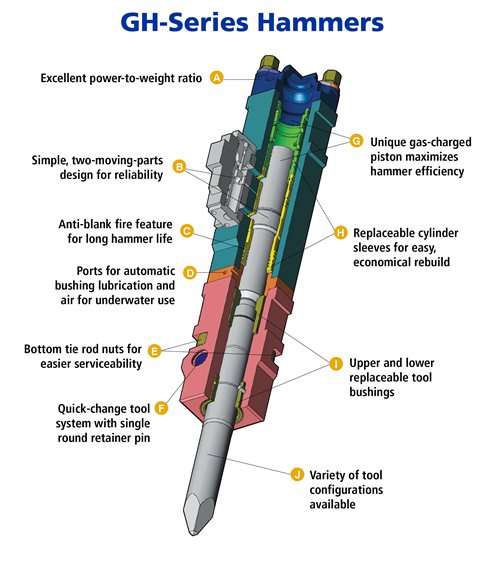 GH Series (Medium - Large Breakers)
Featuring NPK's direct-acting gas-charged piston, which creates maximum impact for each blow. Standard on all GH hammers is the shock-absorbing mounting bracket, which uses special heavy-duty rubber mounts to absorb shock, recoil, and impulse vibration. This unique one-piece design eliminates the need for mechanical springs and overly heavy mounting brackets. The long-stroke piston design, along with the shock-absorbing rubber mounts, reduces operator recoil and improves operator comfort, along with minimizing machine wear.

The Anti-Blank Firing (ABF) feature increases the life of the component, as it allows the hammer to fire only when pressure is applied to the tool.

The simplicity of the hammer design extends to ease of serviceability. The standard bracket style makes servicing the NPH hammer simple - laying horizontally, the hammer body can be removed without having to remove the top bracket.

Return on Your Investment
Hammers aren't meant to have an easy life and occasionally need to be rebuilt. A typical hammer body can cost as much as 70% of the cost of a new hammer; whereas, an NPK hammer body can be re-sleeved for approximately 1/3 of the cost of competing brands when the body becomes worn or damaged.

The Anti-Blank Firing (ABF) system prevents hammers from firing if the chisel isn't loaded, minimizing wear and increasing hammer life. The round, rotating tool retaining pin also contributes to longer hammer life and is an easy tool replacement. Replaceable cylinder sleeves prevent wear to the main body, allowing for an easy, economical rebuild, and a grease port is provided for automatic or manual greasing, which prevents damage or premature wear caused by lack of grease.
Applications
Rock and Slag Breaking
Reducing Oversized Material
Concrete Breaking and Recycling
Road Construction
Sidewalk and Curb Construction
Commercial / Selective Demolition
Underwater Applications
Site Excavation
Scaling and Tunnel Excavation
Trenching
... and more!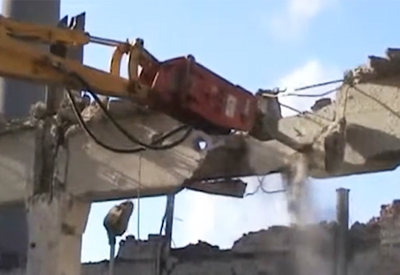 NPK GH2 Hydraulic Hammer - Overhead Selective Demolition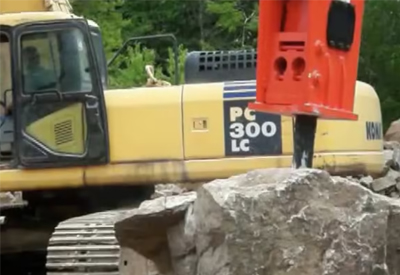 NPK GH10 Hydraulic Hammer - Breaking Oversize Rock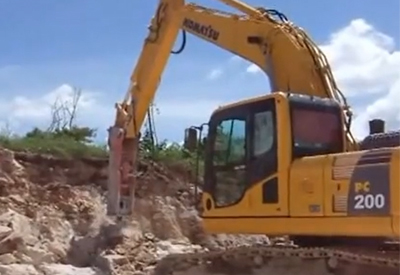 NPK GH9 Hydraulic Hammer - Primary Breaking for Site Prep