Take your job site to the next level
NEW! Now offering IMC 2.0
Your job site just got even smarter with Komatsu Intelligent Machine Control 2.0, now available on excavators and dozers.

Transform your job sites into highly efficient, highly productive operations by taking advantage of productivity-enhancing automation and cutting-edge job design.


Benefits of Intelligent Machine Control 2.0 include:
Getting new operators up to speed quickly
Going from mass excavation to finished grading faster than ever
Fully integrate 3D design data into your machines
Empower operators to work efficiently, pass after pass
Talk to our SMART Construction experts about how the new Komatsu IMC 2.0 can deliver higher levels of productivity.
Call Us
Request More Info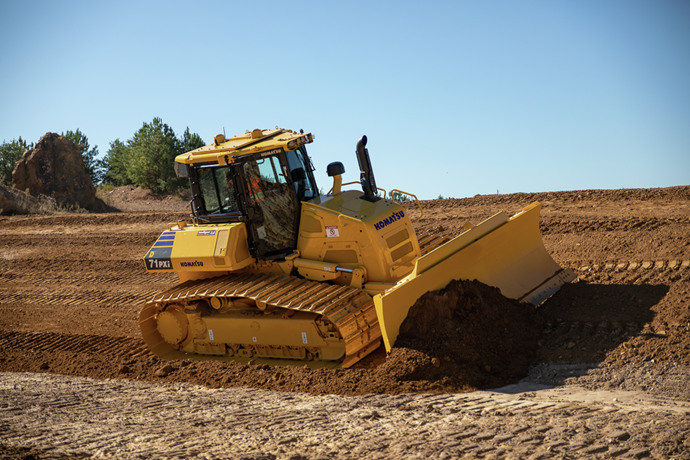 Although the D71PXi-24 is seen as the new "dozer on the block", it has the ability to work in all industries. The applications are endless, from lease building to stripping pipeline to road construction. Contact our Smart Construction team to see how this new dozer can make a powerful impact in your industry.
KOMATSU
IMC 2.0 Dozers
Easily apply advanced automation technology to your job sites.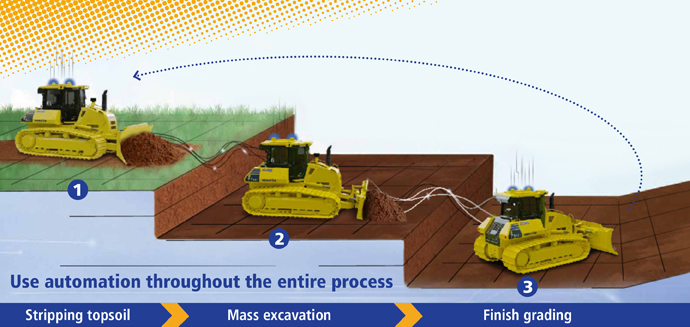 New IMC 2.0 dozers increase production up to 60% with the ability to use automatics from grass-to-grade.
Lift layer control uses the shape of the existing terrain to place lifts consistently with high accuracy, reducing compaction rework
Create a temporary design with quick surface creation
Tilt steering control automatically tilts blade to maintain straight travel during rough dozing and reduces track slip
Request More Information
View IMC 2.0 Dozers
Did You Know? Proactive dozing allows the operator to work with automation in all job phases, from the first pass to the last. Existing ground conditions at the tracks are continually collected, and with every pass, the new ground condition is updated to follow existing grade contours similar to an experienced operator.
Komatsu
IMC 2.0 Excavators
Work smarter from rough to finish grade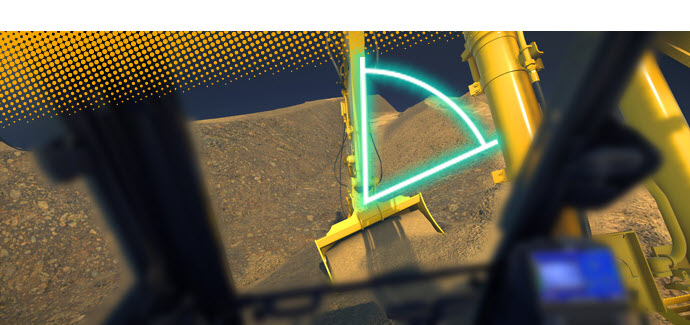 Intelligent Machine Control with automated tilting bucket feature allows smarter excavation from start to finish, removing over-excavation throughout the job.
Auto tilt control automatically tilts the bucket which greatly increases ease of operation on slope and ditch work
Protection + precision + performance = the formula for pursuing maximum productivity versus conventional machine guidance
Excavator automatics for trenching, slope work and high production applications
Request More Information
View IMC 2.0 Excavators
Did You Know? The new auto tilt bucket control helps keep the operator on design so that the finish grading can be accomplished without having to align the machine with the target surface.
Warranty
Reduce and manage unforeseen downtime within your technology fleet. Our warranty solutions will provide you flexibility and reassurance that your investment is protected long term.
Did You Know? Technology components are included in the SMS Equipment Warranty Solution packages.

Download SMS Equipment Warranty Brochure
Komatsu features deep integration, which provides harmony between the machine control system and the machine. All components are designed and installed from the factory as part of the machine and truly integrated.
When autos are engaged, the lift and tilt function of the dozer blade is controlled by the machine, allowing the operator to focus on material management.
When autos are engaged, if any part of the bucket comes in contact with the design surface, the work equipment automatically stops. As the operator pulls back on the arm, the boom will automatically raise. These features minimize over-excavation to the design surface.
3D GPS automatic dozers are used in many applications from mass excavation to finish grading.
Use semi-automatic excavators for trenching, slope work and high production applications.
With the auto grade assist function, the operator moves the arm, the boom adjusts the bucket height automatically, tracing the target surface and minimizing digging too deep. Auto grade assist allows the operator to perform rough digging without worrying about design surface, and to perform fine digging by operating the arm lever only. The working range is expanded by holding the lever to move the boom downward.
During boom or bucket operation, the work equipment automatically stops when the bucket edge reaches the design surface, thus preventing damage to the design surface. Bucket edge positioning is also made easy.
GPS machine control utilizes Global Navigation Satellite Systems (GNSS) to determine a machine's position. When used with design data, and computer assisted hydraulic control, a machine can automatically adjust its ground-engaging equipment to accurately cut the designed grade of a project without operator adjustments.
Machine control settings can be adjusted between presets to tailor the response to application and material conditions. From rough cut to finish grade and dry loose sandy soils to wet heavy clay materials, system performance can be targeted accordingly.
Flexibility is important for our customers, and our customers can adapt to the needs of a job. If the job requires high-precision engineered surfaces, we can import these complex surfaces. If the job only requires a simple surface, it may be possible to create your design surface right inside the cab of the machine.
Cab top GNSS antenna allows for accurate as-built surface data collection by measuring actual elevations as machine continuously tracks in operation. Measure progress in real-time with operator selectable settings.