Takeuchi will showcase its newest machines and attachments, along with its most popular models, at its ConExpo booth, #N11843 in the North Hall.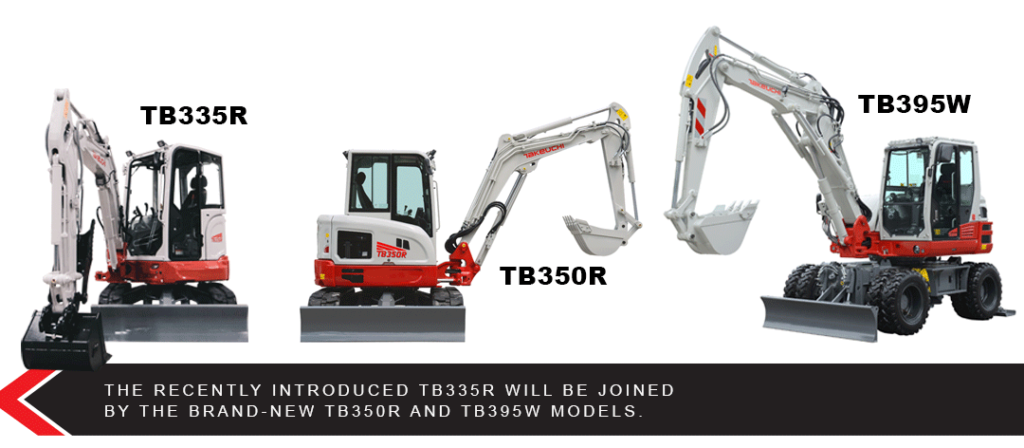 The new TB350R Series 3 compact excavator features a 43.4-hp engine and a short tail swing design for working in tight or confined spaces. The cab version has an operating weight of 11,210 lbs., while the canopy model weighs 10,957 lbs. The TB350 offers an 11'8" dig depth, 19'10.8" maximum reach and 12'11.3" maximum dump height. Combine those working ranges with its high-flow primary auxiliary circuit, and the TB350R is ideal for multiple construction, rental and landscape applications.
Another highlight at Takeuchi's booth will be the North American debut of the TB395W wheeled excavator. This excavator weighs 22,375 lbs. with a 113.9-hp engine. The TB395W's powerful hydraulic system makes it especially quick with as many as 10.1 rotations per minute. Its 13.4-ft digging depth and 28-ft. cutting height make it particularly useful on construction sites.
The company's two tilt rotator models – the DF4 and Prop Plus – will be installed on several excavator models at the booth. The DF4 runs its tilt and rotate functions using two hydraulic circuits and a control box located in the machine's cab. The fully featured Prop Plus model can run both tilt and rotate functions as well as a hydraulic coupler and multiple auxiliary functions using only the excavator's primary circuit.
Takeuchi will also celebrate its new manufacturing facility in Moore, South Carolina by displaying a special "Assembled in the USA" version of its popular TL12V2 compact track loader. All Takeuchi compact track loaders are now built at the South Carolina plant.
Other notable Takeuchi machines and attachments on display will include the TB20e battery-powered excavator with S2 hammer, TB240 excavator with auger and cradle, TL6R compact track loader with 60" bucket, TL8R2 with landscape rake and TW60 wheel loader with broom.