SMS Equipment and Komatsu collaboration leads to the ultimate mining dozer
SMS Equipment and Komatsu understand that customers aren't satisfied with "good enough." That is why they launched a joint program to examine the Komatsu D475A-5E0 dozer and tailor it to meet the specific needs of the Canadian mining industry. Komatsu's class-leading engineering and SMS Equipment's extensive knowledge of the mining industry have been a perfect match for the endeavor.
The effort began in 2014 when SMS Equipment initiated discussions with mining customers about specific enhancements they would like to see on this dozer. Engineers also visited jobsites to watch the 664-kW, 108,390-kg dozer in action and developed a prototype that was later dispatched to mining customers in Canada.
"This project was a huge undertaking for both SMS Equipment and Komatsu, but the results have been outstanding,"
said SMS Equipment Manager-Technical Support Mark Haywood.
"We received several great reviews from customers who demoed the modified D475. We knew we were on the right track when customers began asking when they could get one."
While that sounds like a good development, most of the modifications to the dozer were done locally at SMS Equipment via aftermarket additions – a slow and costly process. With demand for the customized dozer rising, SMS Equipment and Komatsu teamed up to streamline production.
"We worked very closely with both Komatsu America and Komatsu Limited in Japan to begin production of the D475 with the mining-specific changes we introduced," noted Haywood. "This was a great partnership because it enabled us to build the dozer and keep costs down since the updates were done at the factory level."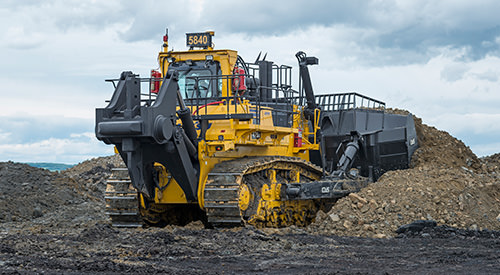 Total commitment
To further expedite the process, Komatsu America stationed Design Engineer Osamu "Sam" Shimizu at SMS Equipment on a three-year assignment to gain a better understanding of customer needs and effectively communicate market requirements to colleagues at Komatsu America and Komatsu Limited. Shimizu's presence was felt immediately as he serves as a resource to support the product and directly convey customer feedback on the dozer to Komatsu.
"I am able to act as the conduit for information between our customers and Komatsu's Product Development teams," explained Shimizu. "As engineers, sometimes we think a decision makes perfect sense on paper, but it may not translate well to real-world applications. Because I am here on the ground, I can see what decisions are working and which ones aren't. Then, I communicate that feedback directly to the design team."
The level of collaboration on the project has been amazing, Haywood reported. "It's uncommon for a Komatsu design engineer to work at a local distributor. It shows Komatsu's level of investment in this project."
Haywood said that Shimizu's involvement in the project has been crucial to its success. "Not only does he have direct access to the design team, but he's also able to bridge the language barrier. Without him, it may have taken a couple of weeks to work through an issue, but now it can be accomplished with one phone call. He sees what we're seeing and relays it back to his team."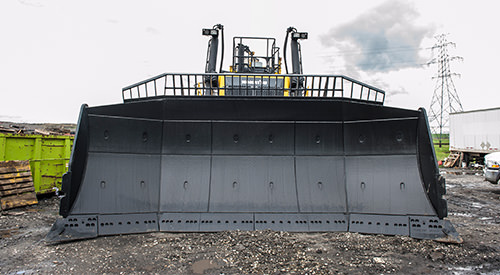 Built for you
Today, the D475 dozer is on the job across North America. With several of the mining models deployed in Canada since the initiative began, Haywood believes it is just the tip of the iceberg.
"Even though the dozer is in production, it's still early in the process from our perspective," Haywood stated. "We are continuing to monitor the use of the dozers and talk to users about what they like and may still want to see applied to the D475."

Another advantage of Shimizu's extended stay with SMS Equipment is that it provides additional customer support time and continuity throughout the redesign process as well as the ability to quickly respond to questions or additional feedback once the mining-spec dozers are on the job.
"Customers have been very happy with the dozer and the continuous improvement process that SMS Equipment and Komatsu have demonstrated," said Shimizu. "The more the dozer is used in the field, the more feedback we will receive and the better we will be able to make it. We want this machine to be the best it can be for our mining customers."
The mining-specification D475 features several upgrades to the standard model. Serviceability was an area of emphasis for the new model.
The D475 was outfitted with extra catwalks, improved handrails, overhead tie-off points and additional three-point contact. Komatsu also centralized the breathers and service stations on the rear of the machine for easy access during daily maintenance.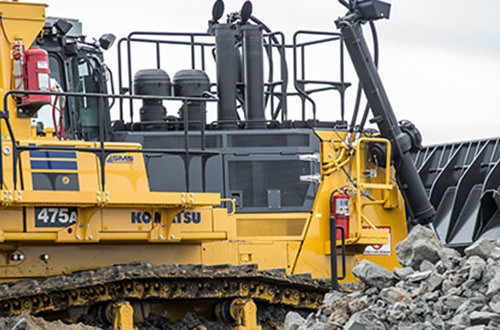 "When we polled our customers, safety and serviceability were two things that we heard frequently," said Haywood. "We also added features to make the ride more comfortable and to increase performance and handling.
"It's our goal at SMS Equipment, as a leader in the mining industry, to work closely with Komatsu to develop the very best mining dozer on the market and continue to back it up with first-class service," he continued. "That's what customers expect from SMS Equipment and Komatsu, and that's what we intend to deliver."