Protect your track loader investment with proper undercarriage selection and maintenance
Protect your track loader investment with proper undercarriage selection and maintenance
A track loader's undercarriage contains some of the machine's most critical components. It is also subjected to some of the worst punishment under extreme operating conditions. Its life expectancy depends on many factors, like application, ground conditions, and operating practices. Purchasing a machine with an undercarriage that has a poor design and construction can and will drain your profits. Choose wisely and you will reap the benefits of durability, uptime, and increased production.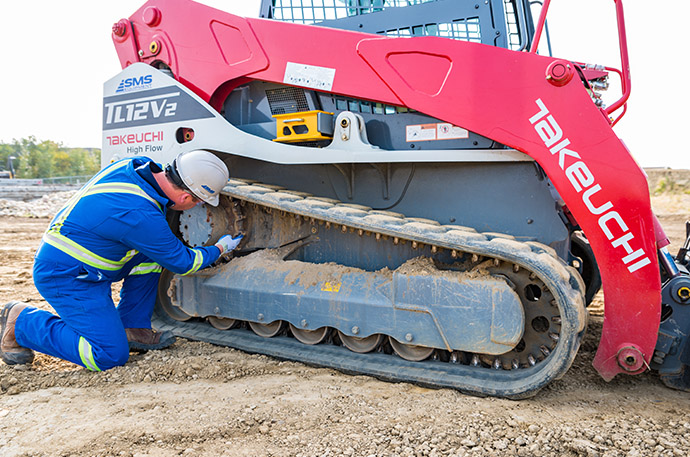 It's important to ensure the undercarriage of your CTL fits your operational needs.
Rigid undercarriage vs. suspended undercarriage
Rigid undercarriage vs. suspended undercarriage There are two types of track loader undercarriages – rigid or suspended. In a rigid-mount undercarriage, the left and right track frames are bolted or welded onto the main frame. Conversely, a suspension undercarriage uses movable track frames supported by torsion springs, or in some cases rollers, suspended by a leaf spring. A rigid undercarriage is most like that of a dozer that was built for grading or pushing.

"That's where a solid steel structure and integrated cross members become really important," said Lee Padgett, product manager for Takeuchi-US. "The solid fully welded one-piece frame and boom stops also play a critical role in the grading and pushing ability of a machine. With ever increasing tractive efforts offered by our track loaders it is critical to transfer that shock and load though the frame rather than apply that force though the loader arms to the rear pins and bushings."

There are unique advantages to both a rigid undercarriage and suspension undercarriage. There are fewer moving parts with a rigid undercarriage, which requires less maintenance. With fewer moving parts, the rigid undercarriage is more durable and easier to maintain than suspension track systems. Pound for pound, rigid undercarriages have a higher rated operating capacity and tip load than suspended undercarriages. However, suspension undercarriages typically provide a smoother ride for hard surface or load and carry applications by reducing shock and vibration throughout the machine.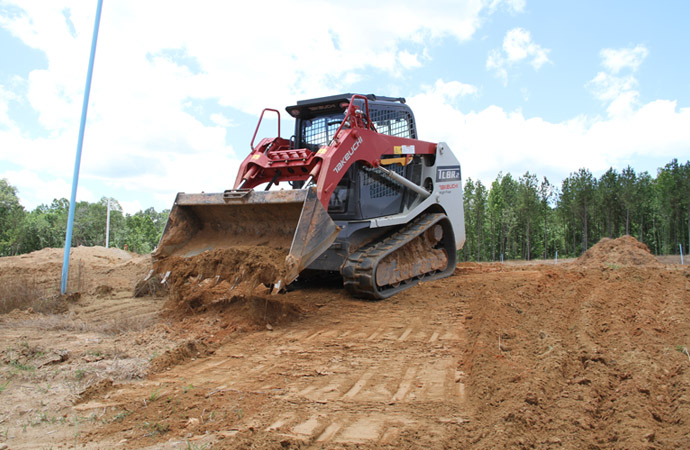 Every day you should clean any mud or other accumulated debris from the tracks.
Operator considerations

---
You've purchased a track loader, and you're confident that it has the type of undercarriage that's ideal for your needs. However, if you're not the only person operating the machine, it's important to ensure your crew members know how to use the track loader correctly. Crews operate equipment daily, so they're in an ideal position to recognize problems. Proper operator training goes a long way towards ensuring a track loader's undercarriage stays in good condition.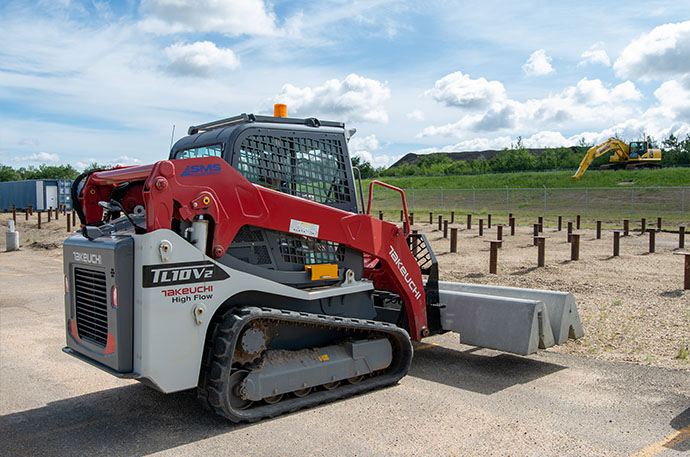 "Sometimes, crew members are more familiar with other types of equipment, and they may adapt the way they operate those machines to a track loader," Padgett said. "Track loaders require a different approach in some ways. For example, when you're operating a skid steer, it's possible to apply enough pressure downward on the bucket to raise the front tires off the ground. On track loaders, this technique tends to spin the track, which can cause premature wear of the track and rear rollers."
Taking wide turns instead of operating the machine like a skid steer and turning around right on the spot will help minimize undercarriage wear and disturbance to the surface under the machine. In sloped conditions, it's important to drive up and down the slope, not across it, to avoid unnecessary wear to undercarriage components. Going across a slope puts side loads on the machine's tracks, rollers, and idlers.
Maintenance musts

---
"Preventive maintenance is the key to a longer machine life," Padgett said. "You can reduce operational costs by taking advantage of the real-time maintenance and service-needs data that a telematics system can provide. For example, our Takeuchi Fleet Management system (TFM) allows operators to plan ahead and schedule maintenance visits based on actual machine data. This is a proactive approach that reduces downtime while increasing productivity and profitability."
Anyone who owns or operates a track loader should know how to properly adjust the tracks. Track sag or tension should be checked daily and proper tension maintained according to the manufacturer's recommendations. A rubber track system that gets too loose can cause the machine to "de-track," meaning the rubber track rides off the undercarriage. Conversely, operating with the rubber tracks too tight could result in operating inefficiencies such as increased component and track wear.
"Track tension usually can be adjusted in just a few minutes," Padgett said. "Taking a little time to ensure your tracks are properly tensioned can serve to reduce costly downtime and headaches."
Keeping the undercarriage and tracks clean is also very important. Compact track loaders are great for use on soft material like dirt and mud, but debris can get packed in the tracks, and that can cause trouble. Tracks that are bogged down with material will cause machines to use more power and fuel than necessary, and the tracks themselves may wear down faster. Debris also causes drive motors to lose efficiency, and extra material may also serve as insulation that doesn't allow the oil in the drives to cool properly.
"Every day you should clean any mud or other accumulated debris from the tracks," Padgett said. "Depending on your operating conditions, this can be a quick task, or it can take some time. That's why we recommend track loaders with an undercarriage that features a sloped open-centre design with well-protected drive lines, that not only helps shed debris but also allows for the use of a spade to remove hardened materials."
Be sure to regularly check tracks for uneven wear, because if certain components wear down more quickly than others, it can affect the entire machine's productivity. Also look for any tears, cuts or punctures, as well as leakages from the travel motors, hoses, or rollers and repair those immediately.
"Of course, as with any heavy equipment, following the manufacturer's maintenance schedule is vital to machine health and longevity," Padgett said. "That extends to undercarriage and track maintenance as well. If you follow their guide, you'll have a track loader that stays in good shape and helps you stay as productive as possible."
Reprinted with permission from Heavy Equipment Guide. Read the original article
here
.