Can a perfectly orchestrated routine help you be in two places at once?

Not quite, but with brothers Lane and Logan Steffler sharing a cross shift at SMS Equipment for the past five years, they agree it's the next best thing.

"That's what is so nice about the seven and seven shifts," says Logan, the older of the two. "I can be at our family farm when I'm on my days off, and Lane can be there on his days off. Someone is always at the farm, able to help my dad or mom and keep the business going."
As the fifth generation of their family farm, the brothers are critical in moving it into the future—which of course includes keeping the machinery running smoothly. Exactly what they excel at as Heavy Equipment Technicians (HET) with SMS Equipment.
Lane joined the company in 2015 and when asked about other potential hires, mentioned his brother. Logan was hired less than a week later! The pair started as labourers, moved into apprenticing, and are now full-fledged journeymen. Since day one, sharing a cross shift has been an essential component that has helped them balance all their ventures.
"We have the family farm, and recently my brother, my dad and I invested in bulldozer, a D85 from SMS," says Lane. "We have it out working too, so it been nice to have this balance—I can come to work here at SMS, and Logan can look after the jobs at home, and then he comes to work and I take care of everything at home."
Watch Logan's Journey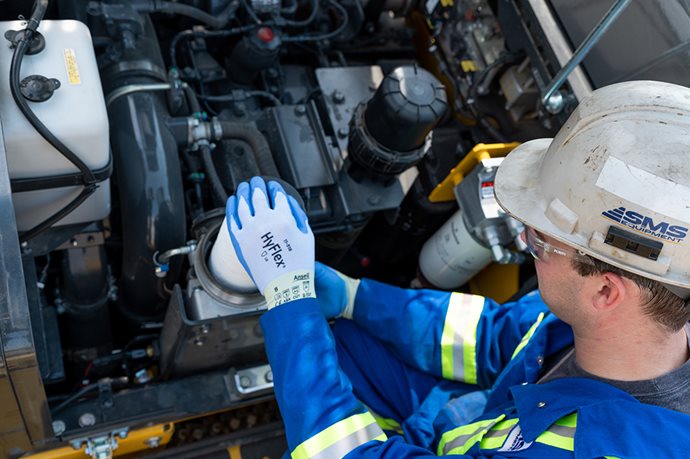 Watch Video : Meet Logan Steffler - HET at SMS Equipment Inc. to hear a little bit of his story on his journey of becoming a Journeyman HET.
Perhaps the only downside?
"We don't see each other a lot, but we communicate constantly through texts and calls to make sure everything is always on track," says Lane.

Splitting shifts to maximize time spent at the farm is necessity. At the peak of its growth, there were 225 cows to calve and 1,600 acres of grain to put in. "We like to keep busy," says Logan, "and we rely on everyone in our family to help out to make it happen. The support we get at work helps us do that."
Before settling into his role as a HET at SMS Equipment, Lane built a wide skillset that now helps him perform his duties with agility and know-how. "I was an operator, then a feedlot cowboy—checking about 9,000 animals a day—then I got into parts at an ag dealer, which led to my interest in heavy duty mechanics. Of course, I enjoy farming, and lately have been getting into welding too." Skills for work, skills for life!
Logan is just as dedicated to working with heavy duty machines and keeping the farm running round-the-clock (graveyard shifts calving cattle are his specialty!), but he also has always had a knack for technology and computers. His passion amplifies his capabilities as an HET.
The intense commitments and hours have added up: the brothers just celebrated a milestone with SMS Equipment. Says Lane,
"We're journeymen going on five years. Happy and strong!"
Their shared work anniversary is also the perfect opportunity to reflect on their work life balance they've worked toward as a cross shift team.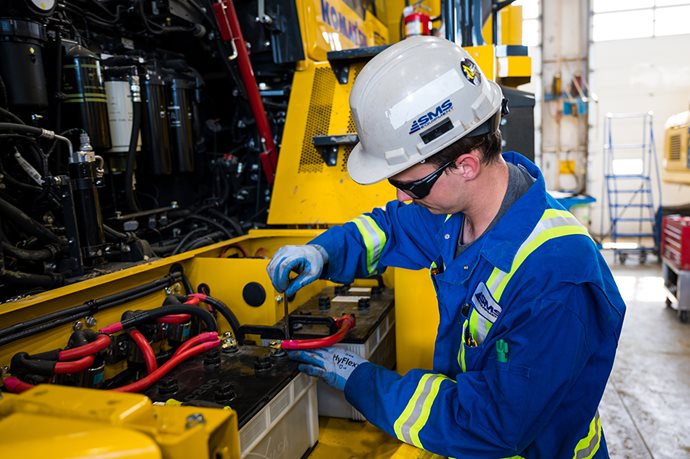 Lane Steffler - Journeyman HET at SMS Equipment Inc.
"I can't always come in for overtime because of the farm and the business, and I've never gotten grief for any of it," says Logan. "SMS has been very good with supporting the work life balance."
Adds Lane: "They work around our personal lives and understand if things come up and we can't commit to overtime."
Some would say there are no harder workers than farmers, so to be able to do accomplish that while establishing careers as HETs is an admirable feat. It requires flexibility and encouragement that SMS Equipment is happy to deliver.


With this five-year marker barely behind them, what's next for the Steffler brothers?
"I would like to stay on seven and seven," says Logan. "I hope to end up as lead hand position or field foreman one day. The family farm isn't going anywhere, so it would be nice to continue to do exactly what we've been doing."
After all, if it ain't broke, let it be. And if it is? Lane or Logan got it covered.
"It's pretty cool," says Lane. "I remember growing up and working on farm equipment with dad and tinkering around on different machines, and now here we are—making our living doing this!"