Operators can load more trucks per shift, in a more comfortable work environment
The 256,618 lb. (116,400 kg) wheel loader is equipped with an EPA Tier 4 Final certified emission regulations-compliant engine, and is purpose-built to load 70 - 150 ton haul trucks.
"
The WA900-8
is the perfect machine for loading haul trucks in limestone pits because the all new Komatsu bucket design, with modified profile, maximizes bucket fill to increase productivity," said Robert Hussey, Product Marketing Manager, Komatsu America Corp.
"The large pillarless cab offers great visibility, and the higher capacity air suspension seat along with the Electronically Controlled Suspension System (ECSS), provides a smooth ride for better travel performance to keep operators comfortable throughout long shifts."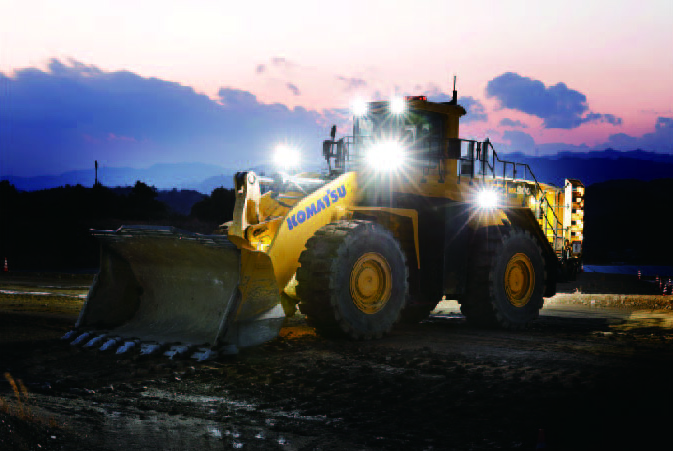 Productivity & Efficiency
Variable Traction Control System and Modulation Clutch System provide optimal tractive effort for various ground conditions
Komatsu SmartLoader Logic helps reduce fuel consumption while maintaining production levels
Closed Center Load Sensing Hydraulic System delivers hydraulic flow based on application demand, saving fuel and reducing hydraulic oil temperatures
Throttle lock with auto-deceleration improves cycle times by maintaining high work-equipment performance
Under the Hood
U.S. EPA Tier 4 Final emission regulation-compliant engine SSA12V140E-7 outputs a net horsepower of 899hp (up 5% from 856hp on the WA900-3E0)
Dual Komatsu Diesel Particulate Filters (KDPF) / No Selective Catalytic Reduction (SCR) system and no DEF required
Variable Geometry Turbochargers (VGT) ensure precise engine control and quick response
Accessibility & Operator Comfort
Advanced Joystick Steering System (AJSS) and Electronic Pilot Control (EPC) work equipment control levers provide quick and precise response to operator input
Automatic dig system, semi-automatic approach and dump system help less experienced operators become more productive and can reduce fatigue for experienced operators
High resolution, 7-inch monitor with dedicated rearview camera
45-degree stairways on the left- and right-hand side of the machine and walkways in front of the cab and on the rear counterweight provide easy access on the machine
New Machine Technology
Advanced machine monitoring system, with onboard diagnostics viewable with the 7-inch LCD monitor, no laptop required for machine troubleshooting
KomVision® with radar obstacle detection, a six-camera system on a dedicated LCD monitor provides a bird's-eye view around the machine and an audible alert when an obstacle is detected in the working area for improved operator situational awareness (optional)
Enhanced KOMTRAX® Plus, for immediate remote diagnostics of machine heath and performance with operator ID and integration with 3rd party telematics systems
Energy savings operation ECO guidance provides operator with real-time recommendations to improve machine operation efficiency
Reliability & Durability
Completely redesigned front and rear frame and loader linkages make it the most durable chassis in model history
New standard brake cooling system reduces brake oil temperature, resulting in longer brake-service life
Engine pre-lubrication system raises engine oil pressure before startup to ensure full lubrication of all engine components
Quick Specs on Komatsu's WA900-8