Not all compact excavators are the same; choosing the right one can make a significant difference in your production levels
Need a zero tail-swing excavator? "It is not a one-size-fits-all," says Travis Bearpark

"There seems to be confusion with that term that the term 'zero tail-swing excavator' always means a small machine made for confined spaces," said Bearpark, Sales Representative, Light Construction for SMS Equipment. "While there are excavators designed for that, the number of models available within the conventional arena are numerous and can be used across a broad range of applications. Finding the right one can make a great deal of difference when it comes to your production."

He points to the Takeuchi compact lineup as a prime example. It manufactures three types of tail swing configurations on its excavators. The largest line utilizes a conventional tail-swing design that range in size from the 1,770-kilogram (3,900 lb) TB216 to the 16,000-kilogram* (35,274 lb) TB2150, a dozen models in all.

"These excavators deliver great versatility," emphasized Bearpark. "Their standard or "conventional" compacts offer minimal overall swing, so they are productive in a lot of limited space situations, but they also offer solid results if you are digging in wide open areas. Allowing you to go from working on a new residential site where house pads and utility lines are being put in to working on most road projects that require a lane of traffic to be closed down and you can't use a large conventional excavator with a full-sized counterweight."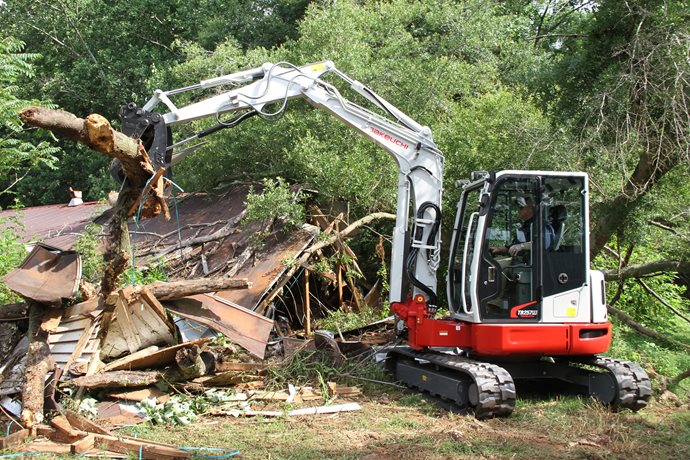 Takeuchi FR models - "Front and Rear" zero-swing for tighter quarters
As the working quarters get tighter, so does the need for a smaller turning radius. Takeuchi makes two "Front and Rear" zero-swing models – the 5,750-kilogram (12,675 lb) TB257FR* and the 8,730-kilogram (19,240 lb) TB280FR*. The FR stands for Full Rotation or "Front and Rear," meaning the upper structure can be rotated nearly completely within the width of the tracks when the boom is fully stowed next to the cab. In every position, the tail has zero overhang, giving operators great confidence in not hitting something with the counterweight during swing.

"These models have Takeuchi's unique side-to-side boom feature that allows the boom to fully offset to the left or right, while keeping the counterweight over the center line of the machine; that gives them exceptional stability," said David Caldwell, Excavator Product Manager for Takeuchi. "They are not only excellent choices for digging, but other applications such as demolition. Depending on the size of the attachment, the boom can be stowed alongside the cab. In this position, the machine can stay nearly within the width of the tracks while the upper structure is rotated. This design often lets you work with a larger excavator in the footprint of smaller one."

Caldwell added that FR excavators are ideal for road and bridge work, working alongside buildings and other structures, general construction, landscaping and "a whole range of applications with limited access and space."

"They provide unmatched visibility to the work equipment and the task at hand," said Caldwell. "Their low center of gravity makes them very stable and contributes to lifting capabilities similar to that of a conventional excavator."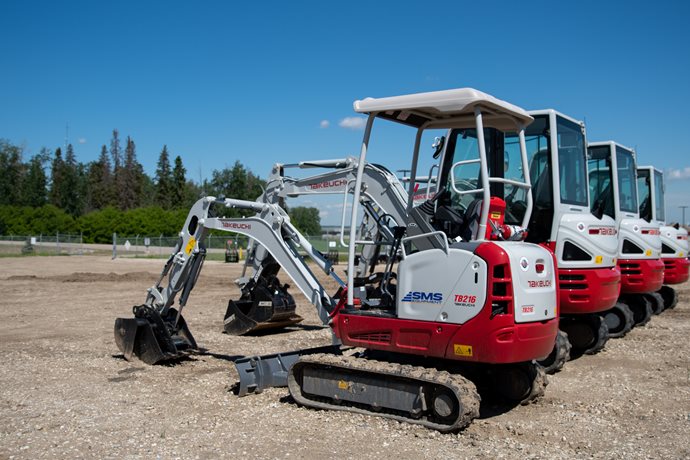 The most compact model
There are times when only the smallest of excavators will get the job done. For those situations, Bearpark suggests the ultra-compact 1,150-kilogram (2,535 lb) Takeuchi TB210R (Rear) which is a zero-tail-swing design. With practically no counterweight, its size allows it to fit through a standard doorway. It's ideal for interior demolition and plumbing applications where access is extremely limited.

"In addition to its overall compact design, it has a two-post ROPS foldable frame to lower its overall height," said Bearpark. "Because you can get it through a doorway, it's also a good fit for working in a backyard that's only accessible through a gate."

Bearpark added that even though its small in stature, it provides good production on a stable platform.

"Tight-tail-swing excavators have wider track frames in order to maintain stability," he said. "In the case of the TB210R, the undercarriage retracts to 750 millimeters (29.5 inches) in order for it to fit through a door. Once in position to work, it can be extended back out to the maximum of 1,020 millimeters (40.2 inches). It's a great feature."
Here to help
Caldwell indicated that no matter which model of excavator you choose, it comes with the assurance that it was built with Takeuchi's four pillars in mind – Performance, Durability, Operator Comfort and Serviceability.

"We're dedicated to manufacturing equipment that delivers outstanding production throughout a long life cycle," said Caldwell. "At the same time, we understand that a comfortable operator is more productive, so our machines are designed to minimize fatigue. We also want to keep downtime to a minimum, so there is easy access to service points. Our machines also offer a lot of standard features that are optional on other brands, including complimentary telematics."

Bearpark said that focus on customer production, service and support make Takeuchi excavators popular in and across Canada.

"Contractors love them," he stated. "All minimize the risk of hitting an obstruction or structure, but there is a right answer when it comes to choosing which one is best for your operations and applications. I encourage anyone who digs, hammers, landscapes, does road work and more to contact SMS Equipment. We are happy to help you choose the excavator that best matches your needs, whether it be a conventional, or tight tail swing.

Travis Bearpark, Sales Representative, Light Construction
Industry Experience
Working in the equipment industry for over 7 years, in many different capacities, has taught me the importance of controlling costs, and increasing productivity
I pride myself on being able to solve and understand the needs of my customers in a timely manner. I firmly believe that building long lasting and trusting relationships is vital to SMS Equipment's success. My goal is to provide the best customer service our clients deserve.