Komatsu PC238USLC-11 delivers outstanding lift capacity in a compact excavator suited for a variety of applications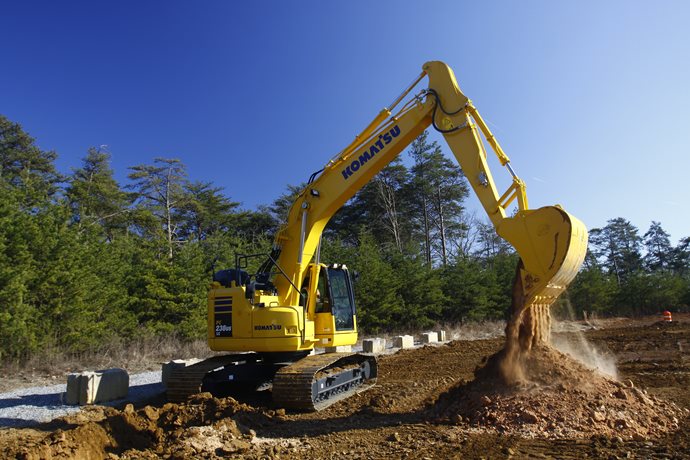 Tight-tail-swing performance
You can get dynamite performance in a small package.
Komatsu's PC238USLC-11
proves it with a heavy counterweight mass and rounded cab with sliding door that provides true tight-tail-swing performance and greater lift capacity than most conventional excavators of the same size.
It
boosts productivity up to 4 percent
compared to the Dash-10 with a viscous fan clutch that lowers engine parasitic loads. Durability is second-to-none, with thick-plate steel used on the revolving frame as well as the heavy-duty boom and arm structures.
"The PC238USLC-11 maintains the tight-tail-swing radius of its predecessor, making it well suited for utility and highway applications and when working in confined spaces," said Andrew Earing, Komatsu Senior Product Manager, Tracked Equipment. "The machine's contoured cab profile and sliding door allow the cab to swing within the same radius as the counterweight."
"If you have unique applications, we have the ability to think outside the box as to how to use the PC238USLC-11 to get the job done," said Jacen Cowick, Manager, Smart Construction, SMS Equipment. "When properly equipped, the excavator can handle a wide variety of situations safely, efficiently and productively, including demolition, land clearing and more. It can add a great deal of versatility to your fleet."
SMS Sales Representative Dave LaRiviere added that the sliding door has been
a very popular feature
with customers.
"It gives them access to the cab without the worry about a traditional door swinging out and hitting something when it's opened," said LaRiviere. "Many told us they had not given this a thought until they purchased a PC238USLC-11, and that they love how this simple feature adds safety and limits damage."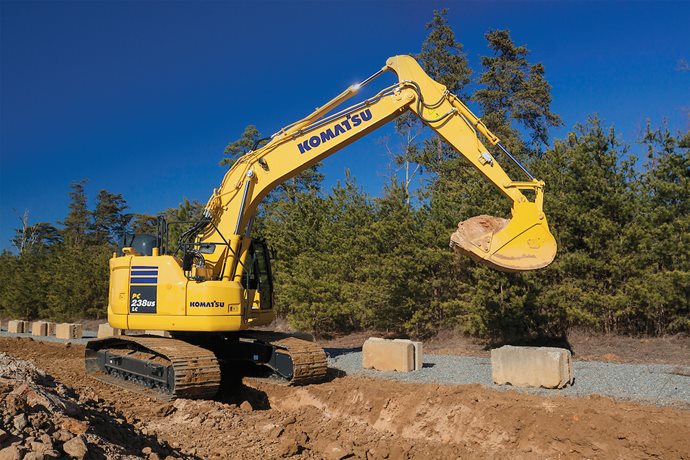 Added advantages with an optional GPS system
Cowick emphasized that you can further increase production, efficiency and versatility by adding an
aftermarket GPS system
to the PC238USLC-11.
"When you think of a machine with dynamite performance, you can also have the comfort of knowing you are always on target," said Cowick.
"Adding a 2D or 3D system with automatics does this while helping you get to final grade faster and limits the possibility of overexcavation. That saves time and material costs because you are not handling dirt twice or replacing it with expensive materials that you would not have needed if you didn't overdig."
"Additional advantages include less staking and labor associated with grade checking," Cowick added. "That boosts time and costs savings even more. Operator production is improved because they don't have to wait for stakes and a grade checker or get out of the machine to check grade themselves."

Installing a GPS system is relatively simple and can be done by SMS Equipment's skilled technicians.

"It's obviously an added expense up front, but these systems are proven to deliver a quick return on investment," said Cowick.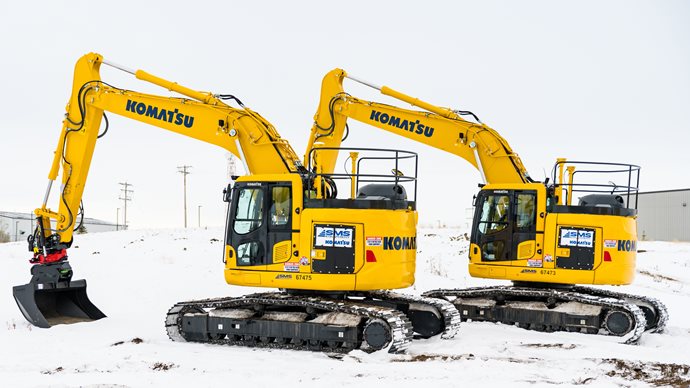 Monitor panel improvements
Komatsu upgraded the high-resolution, LCD monitor panel, incorporating the standard rearview camera display with gauges. "Ecology Guidance" provides fuel-saving information to the operators, and they can choose from six working modes to most effectively match the application, attachment and working conditions.

The PC238USLC-11 is available with Komatsu's KomVision, a birds-eye-view camera system that combines input from three cameras into a surround-view image of the machine and its environment that improves operators' situational awareness.

"In addition to the PC238USLC-11 measuring 40% shorter than the conventional PC210LC-11, this machine offers class-leading serviceability with quick access to the DEF pump and filter, PPC valves, batteries and aftermarkets treatment components," said Earing. "Durability is second-to-none, with thick-plate steel used on the revolving frame, heavy-duty boom and arm structures, and easy-to-access cooling-system-debris screens. Overall, the PC238USLC-11 is a true purpose-built, short-tail excavator designed and crafted to outlast the competition."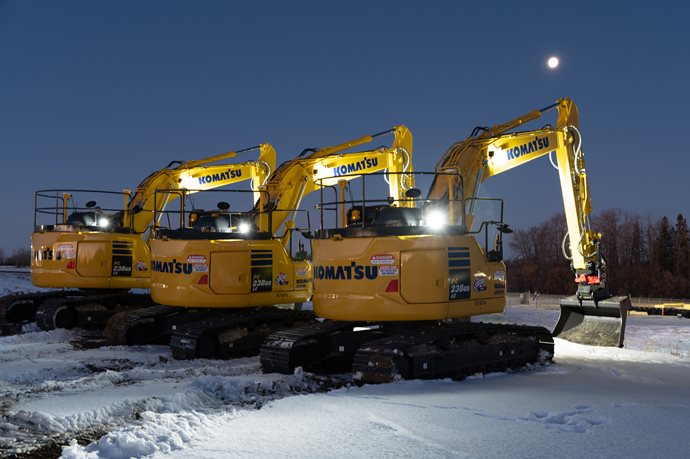 Dave LaRiviere, Sales Representative
16 years of industry experience
Helping you make sound choices whether you are looking for new or used equipment.
Jacen Cowick, Manager, Smart Construction
Over 9 years of industry experience
I provide simple and practical technology solutions to help our customers be more productive