From city-centers to rural highways, BOMAG pavers offer the versatility to complete paving project of any size
Building and maintaining paved surfaces is a never-ending project. Jobs range from parking lots to interstate highways and everything in between. This requires a contractor capable of taking on a variety of challenges. To help you stay profitable and on schedule,
BOMAG
pavers combine technology, power and reliability to complete any size paving project.
BOMAG's wide range of pavers meet all projects head on, including its compact class. The smallest machine, the
BF 200 C-2
, is suited for high production in tight situations,
delivering up to 200 tons per hour
. The BF 200 C-2 paver offers a paving range of 1.1 to 3.4 meters (3.7 to 11.15 feet) making it ideal for cart paths, industrial sites, utility patching and municipal jobs.
The slightly larger
BF 300 C-2
is also part of BOMAG's compact class of pavers. Its 4.8 cubic meter (6.2 cubic yard) hopper feeds material between a standard paving width of 1.7 m (5.6 ft) to 3.4 m (11.2 ft), with a maximum paving width up to 5.0 m (16.4 ft). The 9-kilogram (19,841 lb) machine is
ideally suited for inner city redevelopments
but is versatile and capable of completing rural path developments as well.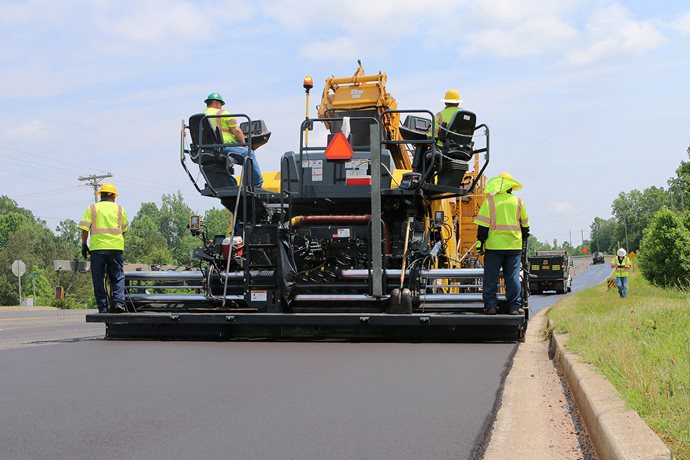 Highway pavers
For larger projects, BOMAG offers several choices of highway pavers, including the CR 820 T, which was recently upgraded and features a new dual operator's platform and controls as well as improved visibility. The 820 T weight in at 1,510 kilograms (36,400 pounds) when fitted with the S16 screed. It travels at approximately 86 meters per minute (283 fpm) in pave mode. The CRT 820 T has a standard paving width of 2.4 to 4.9 meters (8 to 16 feet) and a maximum paving width of 6 meters (20 feet).

The CR 820 W is slightly lighter than the CR 820 T at 15,600 kilograms (34,500 lb) but has a faster paving speed of 144 meters per minute (427 fpm). It has the same paving widths and hopper capacity of the CR 820 T.

BOMAG's largest highway paver, in size, is the 20,000-kilogram (44,300 lb) CR 1030 T, which has a 194-kilowatt (225 hp) engine and a paving speed of 75 meters per minute (246 fpm). The CR 1030 T features a 14 ton hopper capacity with a standard paving width of 3 to 6 meters (10 to 20 ft). It paves up to a maximum of 9 meters (30 ft).

In terms of rated power and hopper capacity, the CT 1030 W has the largest engine at 194 kilowatts (260 hp) and a 16.7-ton hopper capacity. It also has the fastest paving speed at 150 meters (492 fpm) while keeping the same paving widths as the CR 1030 T.
All are simple and easy to operate even in complex paving tasks. The industry-leading FRAME RAISE and three-point suspension systems ensure great traction at all times, even in marginal subbase conditions. They deliver effortless control over the line of pull and consistent head of material at the augers. The result is a uniform mat texture and density.

Rubber-track models have BOMAG's exclusive SMARTRAC technology that eliminates track tensioning and disengagement by automatically maintaining proper track tensioning and stopping travel prior to the track coming off. This delivers thousands of hours of trouble-free operation – guaranteed up to 3,000 hours – and lowers overall operating costs.
Added technology
BOMAG pavers utilize a range of integrated and optional technology to maximize performance on your job sites.

MAGMALIFE technology heats screed plates more uniformly to paving temperatures three times faster than conventional systems. (Available on the BF 200 and BF 300 pavers).

SideView technology allows the operator to switch the control stand between left and right, with four positions for optimum visibility of hopper and paver edges. (Available on the BF 300, CR 820 and CR 1030 pavers).

ECOMODE is an active engine and hydraulics management system that reduces fuel consumption up to 20%, reduces machine noise and lowers the negative operating impact on the environment. (Available on the BF 200 and BF 300 pavers).

FRAME RAISE technology offers improved ground clearance to more easily maneuver around obstacles and load/unload the paver. The operator is also able to fine-tune the head of the material to achieve the best mat quality. (Available on the CR 820 and CR 1030 pavers).

TELEMATICS makes your machine just a mouse click away and allows you to call up the status of your machine from a computer, tablet and smartphone with the BOMAG TELEMATIC app. You can monitor fuel consumption, real-time reports on hours and upcoming maintenance, location and set an anti-theft alarm.