BOMAP optimizes earthwork by digitizing the site and reducing passes to reach target compaction
How would you like to know your earthwork and compaction results in real time, without the need to stop and test it? How much time and cost would you save on a project? On multiple projects?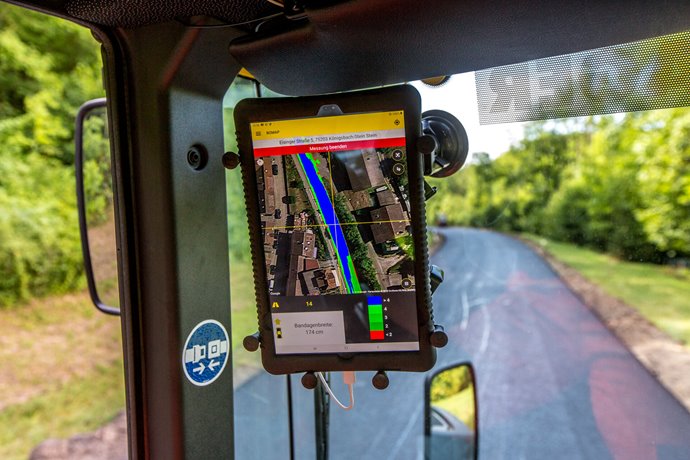 The Savings Add Up
With BOMAG's BOMAP app, the savings add up. It uses GPS to document roller passes, and draws an intuitively readable map of compaction progress. It helps the operators identify what needs to be done and where. The work result is available as a PDF file and provides full transparency.
"There are several advantages that BOMAP offers, including
greater efficiency and quality," stated Garry Phenuff, Product Manager for SMS Equipment. "It also can significantly reduce workload on the entire construction site, while giving you increased reliability and transparency and better measurement and comparability."
BOMAG developed the app for maximum benefit with the simplest operation. BOMAP works on regular Android 7.0 and higher smartphones and tablets without the need for special hardware. You can download it for free in the Google Play Store.
Download Now
BOMAP is immediately ready for use after installation. Once all parameters have been set, the app runs throughout the entire construction process. When started, the app automatically documents roller output without the operator having to make any further settings. It is immediately apparent where the required passes have been achieved or whether further passes are necessary.

BOMAP collects additional readings from BOMAG rollers for Continuous Compaction Control. The app records all relevant machine data such as asphalt mat temperature and material stiffness. At the same time, the user interface has a ground-breaking intuitive design and can be operated without training.

The app can be configured to meet the requirements of earthwork and asphalt paving. It displays live maps of the construction site. A color scale marks the compaction progress and gives the operator clear instructions on what needs to be done and where.

BOMAP shows the start measurement and indicates areas to pass over by using green and red colors. When target compaction is reached, the area turns blue. Operators save time and fuel by not making too many passes or having to stop and wait for measurements. Additional advantages include less machine wear and lower carbon emissions.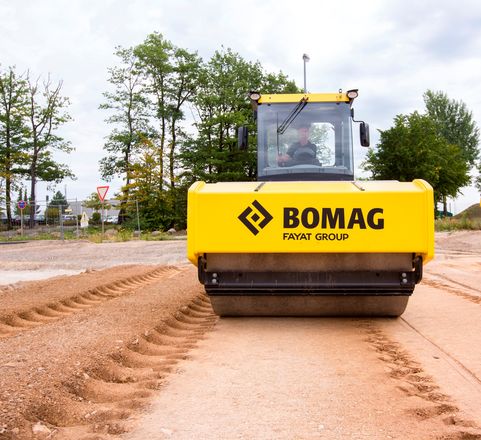 Greater precision with optional antenna
The BOMAP app gives you great results with the mobile device and the internal GPS, giving you experience with the system and allowing for recording and documenting small projects. You enable even higher precision with the optional BOMAP GPS Antenna. It achieves GPS positioning with an accuracy of up to 20 cm (8 in) for "track-to-track" precision. This guarantees exact results on all earthwork and asphalt sites. For maximum precision, the antenna can be equipped with optional additional correction services, providing accuracy of up to the single-digit centimeter range.

The antenna is simple to use and connects to BOMAP via Bluetooth. A cable is only required to supply power. It can be mounted flexibly on the machine with a magnetic base.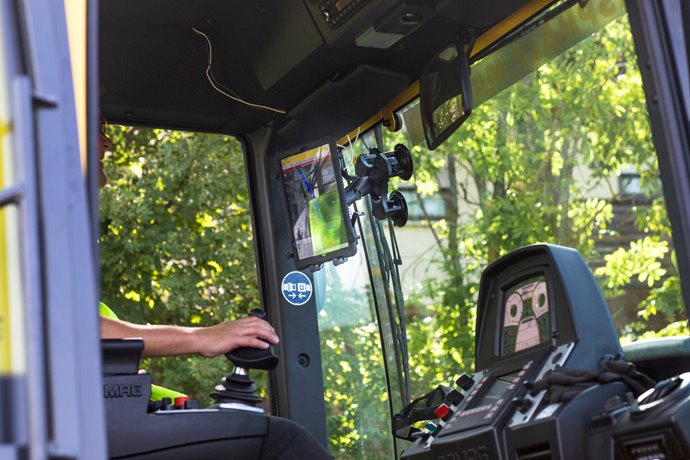 Compatible with other manufacturers
BOMAP is compatible with products from other manufacturers. The app and the optional GPS Antenna can be used on third-party rollers for mapping and pass counting.
Which ever manufacturer's machine you use, BOMAP's tablet holder works with a variety of mounting options. It hits all makes of tablet and displays sizes from 9 to 10 inches. In machines with ROPS/FOPS, it is attached with a simple, effective specially developed bracket. A special holder is also available for mounting on light tandem roller.
"Intelligent compaction options have been available for more than a decade, but they have not been adopted by the industry to the degree they should have," said Phenuff. "BOMAP should be well-accepted in the marketplace thanks to its simplicity, no-cost download and adaptability to all makes of rollers. If you compact, the BOMAP app is a great tool, and we encourage you to take advantage of it."
Watch Now

Garry Phenuff, Product Manager
Garry Phenuff is a long-serving member of the heavy equipment industry with over 30 years of equipment financing, product management, sales, and branch management experience.
He has worked with the world's largest heavy and road-building equipment manufacturers.