Takeuchi compact track loaders provide outstanding options for winter applications
No matter the weather conditions, you keep working and so should your equipment. With versatile machinery, such as Takeuchi's TL10V2 and TL12V2 compact track loaders, you can have confidence that it will – even during the winter months when the snow piles up.
Takeuchi's compact track loaders simplify snow removal. A variety of attachments allow your operators to blade, blow and load snow quickly from driveways, job sites, parking lots, sidewalks, streets and more. Equipping the machines with zig-zag, or all-season, tracks provides a versatile solution for traction and wear resistance on various surfaces, winter or summer.
Both the
TL10V2
and
TL12V2
are available with a climate-controlled cab to ensure your operators stay warm during the cold winter months. The Takeuchi track loaders also can be delivered canopy-style.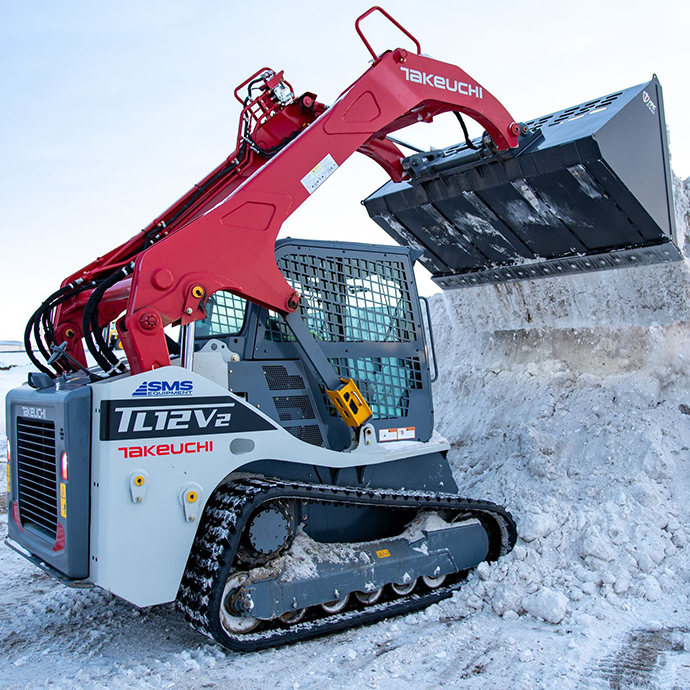 Ready for wide variety of tasks
Snow removal is just one of a number of diverse applications that the TL10V2 and TL12V2 can tackle. Takeuchi manufactures a wide range of buckets and attachments, including grapples, pallet forks, a trencher and a planer. That gives the track loaders the versatility to work on a multitude of sites, such as landscaping, earthmoving, utility and forestry.

With any task at hand, operators can match the machine to the conditions at hand with multiple working modes, including an ECO mode that reduces fuel consumption and is ideal for less-demanding situations.

For higher performance, operators can choose Power mode. The loaders also have Active Power Control, which maintains engine power for optimal performance. It can be engaged or disengaged by the operator as needed.

Muscle as well as efficiency come from the turbocharged, intercooled engines. Takeuchi's largest compact track loader, the TL12V2, boasts 83 kilowatts (111.3 horsepower). The TL10V2 has 55.3 kilowatts (74.3 horsepower).

Durability in all applications
Both loaders are designed to handle even the toughest conditions with built-in features, such as a heavy-duty cross member that protects the bucket cylinders from damage. It has been lowered on these recent models for improved attachments visibility.

Additional durability features for greater strength and performance include a purpose-built frame with multiple cross members, oversized pins and bushings and heavy-duty lift cylinders for excellent lifting performance.

A high-capacity cooling module enables the machines to run cooler and more efficiently for improved component life and attachment efficiency.
Comfort with operators in mind
Putting in long days presents challenges for all operators. Takeuchi designed its loaders with their comfort in mind, including using a quiet track design with flotation tread that provides outstanding ride quality and a reduction in noise and vibration.
Other features your operators will appreciate include an enlarged cab with a low-effort overhead door for improved entry and egress. A deluxe high-back suspension seat with a wide range of adjustment allows for multiple height positions for better visibility when working with attachments.

The track loaders' pilot joystick controls respond immediately to user input and require minimal effort for both performance and comfort. An electronic dial throttle and foot throttle allow operators to use one or the other or both to control desired engine speed.

The color, multi-informational display provides pertinent machine data and lets the operator adjust hydraulic flow from the seat. It also has a wide range of attachment presets that can be configured for ease of operation.