Redesigned TL8R-2 Takeuchi compact track loader features new automotive-style cab
For contractors looking to add a do-it-all track loader that can deliver impressive results on any jobsite, the new
Takeuchi TL8R-2 compact track loader
checks that box and then some. The newly revamped 9,185-pound (4,165 kg) TL8R-2 provides superior power, strength and maneuverability in addition to a radial lift design that delivers a tipping load of 6,041 pounds (2,740 kilograms).
"Takeuchi is excited to release the completely redesigned TL8R-2," said Keith Kramlich, National Product and Training Manager. "Takeuchi prides itself on a continuing tradition of innovation and advancing technology, and the TL8R-2 is a perfect example of that. Operators will feel more strength, performance, maneuverability, versatility and efficiency in this machine, increasing their profits."
The track loader is equipped with a Tier 4 Final, 74.3-horsepower (54.6 kilowatt) turbocharged engine. The diesel oxidation catalyst and diesel particulate filter minimize emissions for a clean and efficient operation.
The TL8R-2 also features individualized operation modes, including Creep Mode for models equipped with high-flow auxiliary hydraulics. Creep Mode enables operators to precisely match the forward speed of the machine to a particular attachment without the need to constantly adjust the travel lever. It's ideal when using attachments that require a consistent, repeatable travel speed, such as during milling and trenching.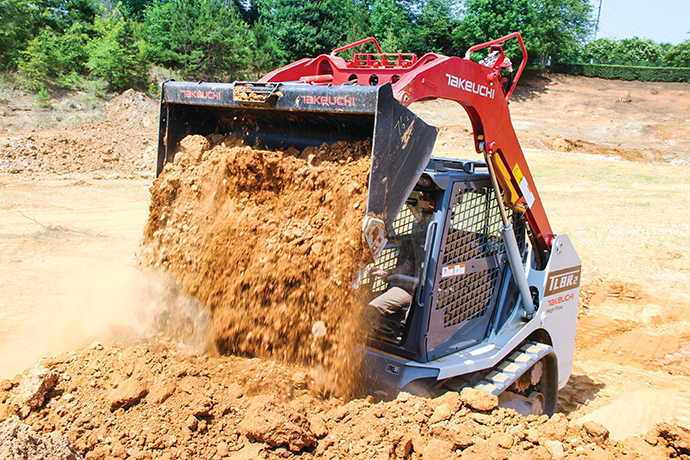 Designed for operators
While technology and on-site performance have been enhanced, Takeuchi took steps to help improve operator performance as well.

The automotive-style cab boasts a 5.7-inch multi-informational color display with a rearview camera and a sealed rocker switch bank. The design helps boost performance and functionality by providing a wider range of information to the operator.

Also standard on the TL8R-2 are the low-effort pilot controls and proportional auxiliary switch that give the operator the precision needed to work more efficiently in a comfortable, fatigue-free environment.

The TL8R-2 offers a pressurized cab equipped with a roll-up door, air conditioning, heat, defrost, front wiper and an optional AM/FM/Bluetooth radio.
Quick Specs for the Takeuchi TL8R-2 Compact Track Loader
Net Horsepower
74.3 hp (54.6 kW)
Operating Weight
9,185 lb (4,165 kg)
Tipping Load
6,041 lb (2,740 kg)
Bucket Width
5ft 6 in (1,6785 mm)
View All Equipment Info