Komatsu's HM400-5 articulated dump truck delivers with automated features to bring consistent performance to any jobsite and terrain
The goal of moving materials is to do it as productively and efficiently as possible.
Komatsu's HM400-5 articulated dump truck
provides what you need with high levels of performance and minimal operating costs. It includes a height of 3.175 meters, 70-degree dump angle and selectable working modes that allow operators to match its performance to the application or conditions.
The HM400-5 maintains the productivity and performance of the previous Dash-3 model, with an updated Tier 4 Final engine to deliver its 40-tonne payload. The Komatsu-designed engine uses an advanced electronic-control system to manage airflow rate, fuel injection, combustion parameters and aftertreatment functions to optimize performance.
"With focus on productivity and efficiency, the HM400-5 is loaded with a host of automated features that can help bring consistent performance to any jobsite, particularly those with challenging terrain," said Sebastian Witkowski, Komatsu Product Marketing Manager. "It delivers great fuel economy and outstanding production with operators of all skill levels."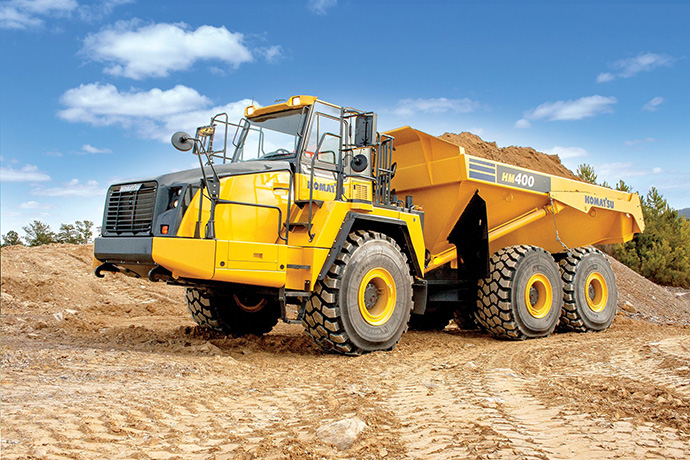 Standard payload meter
Komatsu's Traction Control System automatically provides optimum traction when operating in soft ground conditions. If conditions worsen and the HM400-5 detects tire slippage, the inter-axle-lock kicks in. If tire slippage continues, four independent brakes are automatically applied to the slipping wheels to regain traction.
Owners and operators can keep track of production with a standard, integrated payload meter that displays loaded-material weight on an LCD monitor inside the cab. A pair of external lamps illuminate green, yellow and red as the payload increases through three different ranges to help prevent under- and overloaded haul cycles. Data is stored on boards and is accessible by plugging a laptop into a port in the truck or remotely via
KOMTRAX.
"Users can take advantage of Komatsu's remote telematics systems to monitor machine health and get ahead of developing issues before they impact productivity," said Witkowski. "Plugging into the onboard data storage gives access to a deeper layer of production data, which can increase visibility to jobsite performance. The HM400-5 is an ideal fit for anyone looking to move mass amounts of material with lower cost in mind."
Call Us
Request a Quote
Quick Specs for Komatsu's HM400-5 Articulated Dump Truck