Komatsu's automated, integrated dozers offer the right combination of power and productivity for today's contractors
Whether tackling a quick, one-day project or a multi-million-dollar endeavor that spans the course of many months, you rely on productive equipment to get the job done and meet your deadline. Komatsu offers a range of
dozers
to meet your needs, including the 29,520 kilogram (65,080 pound)
D85PXi-18
and the larger
D155AXi-8
that weighs in at 41,100 kilograms (90,610 pounds).
When customers demonstrate a Komatsu D85PXi-18 dozer three things stand out, shared Chuck Murawski, Komatsu Senior Product Manager, Dozers. "Power, balance and operator comfort," he said.
"They are amazed at the pushing capabilities when it comes to hogging dirt," he said of the 197-kilowatt D85PXi-18. "It is a good fit for a variety of commercial jobs as well as infrastructure, such as roadwork projects."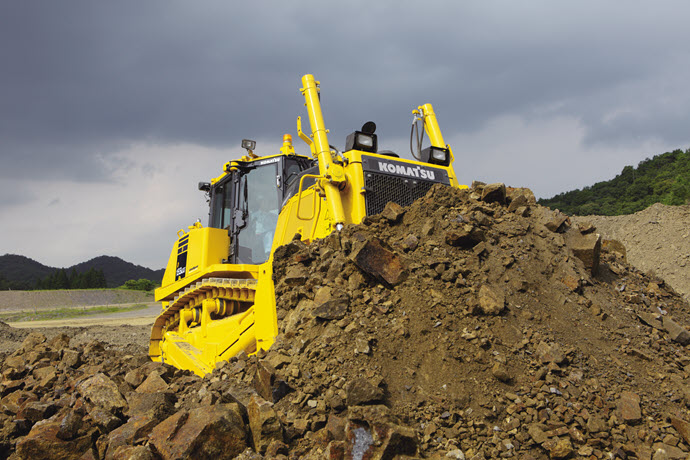 Your projects, done faster
Both dozers feature factory-integrated
intelligent Machine Control (iMC)
that works from first pass to last, grass to final grade, enabling you to get projects done faster and more efficiently. Once engaged, the system automatically starts the cut and lowers the blade to grade in a typical dozing pass.
If the load increases to maximum capacity, the blade automatically raises to minimize track slip, ensuring productive dozing. This allows the D85PXi-18 to achieve up to
8 percent greater
efficiency in moving materials, based on start-to-finish-grade testing against typical aftermarket machine-control systems.
A standard, operator-selected reverse-grading mode enables automatic blade control while in reverse as well. "Operators can back drag, and the intelligent Machine Control system still knows where it is in relation to final grade," noted Murawski. "It boosts productivity and efficiency."
Ready to move massive amounts of material?
When your bigger projects require even more muscle, Komatsu offers the D155AXi-8, the first construction/quarry dozer that features automated operation from heavy dozing to fine grading.
"When Komatsu introduced iMC dozers, the focus was on mid-size and smaller models often used on residential and commercial projects," said Jason Anetsberger, Komatsu Senior Product Manager, intelligent Machine Control. "The automated and integrated system has proven to make operators of all skill levels more productive and efficient, leading to a better bottom line. Contributing to the cost savings is eliminating the process of installing and removing masts and cables, so that time can be better spent in moving more material."
The D155AXi-8 has an automatic gearshift transmission and lock-up torque converter that work together to select the optimal gear range, depending on job site conditions and load. The electronically controlled transmission locks up the torque converter to transfer engine power directly to the transmission, eliminating horsepower loss and
cutting fuel consumption by up to 10 percent.
"This dozer is ideal for highway construction and large residential or commercial site-prep projects," said Anetsberger. "It shares many of the same great features of our standard and popular D155, with the added iMC technology. If you're looking for something that accurately and efficiently moves large amounts of material, look no further."
Both the D155AXi-8 and the D85PXi-18 get a further
power boost of up to 15 percent
when using a Komatsu-patented SIGMADOZER® blade compared to a typical Semi-U blade. The SIGMADOZER blade rolls material to the center for increased soil-holding capacity and reduced sideways spillage.
"With the ability to push an increased amount of dirt, contractors can utilize the D155AXi-8 and D85PXi-18 for both bulking and finish grade," said Jacen Cowick, SMS Equipment Manager, Smart Construction. "With the help of SMS Equipment's interactive support team, integrating them into your inventory is seamless."