Tackling thick forests can be a challenging task for logging companies. Komatsu's C144 harvesting head makes it possible to work efficiently and productively in even the most demanding harvesting environments.
C144 Key Features
C144 Quick Specs
The four-wheel-drive (4WD) feed system features an extra roller that provides greater feed force with a rate of up to 5 m/s and Constant Cut technology to ensure chain speeds deliver high harvesting capacity. These elements allow operators to fell, limb and cut trees simultaneously, boosting performance output. The 1,410-kg harvesting head can also be outfitted with multi-tree-handling capabilities.
The C144 is equipped with an 82.5 cm saw bar, and production can be further enhanced with the addition of an optional 90 cm saw bar for increased productivity and broader application areas. The C144 has a theoretical maximum fell/cut diameter of 750 mm and a delimbing diameter maximum of 510 mm.
"Customers who work with this head are very surprised at the precision, high productivity and low repair costs,"
said Patrice Ouimet, Manager, Forestry Division at SMS Equipment. "The first time I saw this harvesting head working, I was impressed with its performance."
Operators can cut with confidence thanks to patented length-measuring technology that ensures accuracy via a non-contact signal transmission.
The C144 is recommended for tree diameters between 200 and 500 mm, and its overall possible work range is between 50 and 550 mm.
Delimbing is performed with four hydraulic knives. A pair of forward knives are positioned to more efficiently process challenging trees. The front knives have an opening maximum of 660 mm, with the rear knives boasting a maximum opening of 800 mm.
Are you ready to be impressed?
Request More Information
Komatsu C144 Harvester Head Features
4 Key Features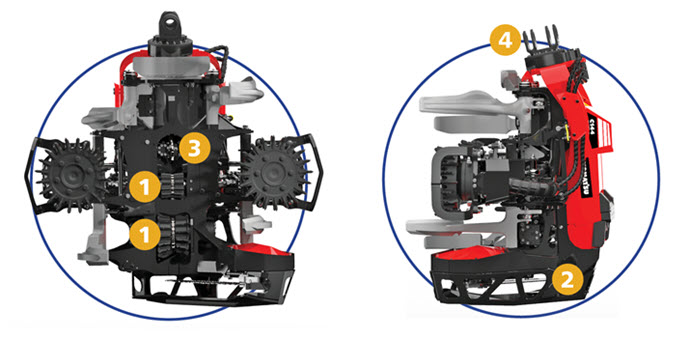 4WD feed with extra body roller produces significantly greater feed force
The system's extra roller in the feed line is truly unique and produces significantly higher feed force
This is especially beneficial when working on coarse trees and difficult to delimb tops
Constant Cut saw unit provides a constant high cutting speed
Prevents the chain from exceeding maximum chain speed
Provides high harvesting capacity and extremely short cutting times
High-speeding saw chain reduces risk of log splitting
Provides constant pressure against the stem and increases accuracy during periods where tree sap can create disturbances
Patented measuring wheel cylinder that follows irregularities in the stem
Patented length measuring with exact measurement accuracy and high reliability thanks to non-contact signal transmission
Rotator is based on a proven design that is durable and easy to maintain
Felling link has a 40-degree tilt angle which ensures a fast feeding start and less strain on the frame, especially when felling trees downhill
The felling link is also designed to minimize problems with snow packing