8 Ways Canadians Keep their Komatsu Construction Equipment Running all Winter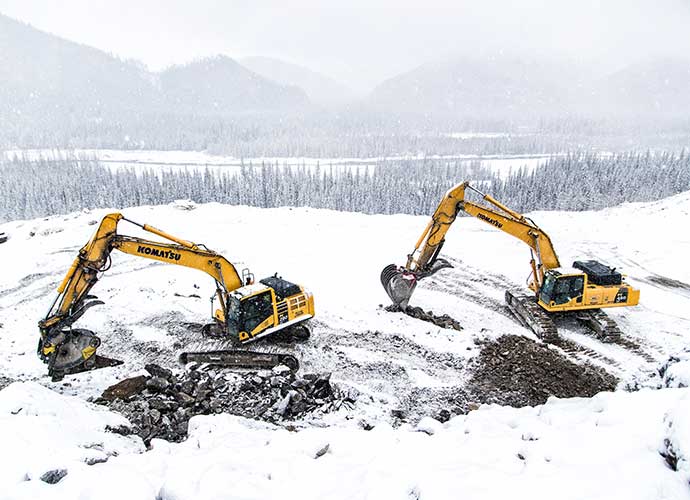 Winters in Canada are very unpredictable. Sometimes we are hit with icy mornings or wake up to a blanket of snow and sometimes we manage to escape arctic conditions completely. One thing that is certain is the temperatures are dropping and just like you would with your car and other outdoor equipment, your Komatsu Equipment need some special maintenance and care for the winter too.

Download Checklist
1. WINTER FUEL
Fuel is blended in winter to remove its paraffin content and prevent it from gelling up. "Winter fuel is introduced at the pumps by blending the summer fuel throughout the fall," explains Campbell. "At the pump, in August they are selling summer fuel; in January it's full winter fuel. Between about September and December they start gradually blending it." So, if you run equipment in the summer, shut it down and don't go back to work until December, that fuel will gel up. "Don't get stuck with a machine in December that has summer fuel in it," Campbell warns. "The heavy paraffins in summer fuel will cause issues in the winter.

2. CRANKCASE FILTERS
Tier 4 engines are equipped with crankcase filters that remove engine blow-by gases. Because they also attract moisture, these filters are prone to freezing in winter months. "So changing them now before the manufacturer's recommended time interval may be advised, to reduce unwanted down time," says Campbell. "For example, if it has a 2,000-hour life and you're at 1,500 in September, why not just change it because you know it is full of water and it will create you a problem in November?

3. INSPECT HYDRAULIC HOSES
Even though the typical lifespan of a hydraulic hose is typically 7,000 to 9,000 hours, cold temperatures can degrade the composition of the rubber tubing making it stiff and brittle and can become further stressed by hot hydraulic oil running through them. So, replace all hoses with cracks or weak spots.

4. CHECK THE BATTERIES
Batteries can become weaker in cold environments, and it your machines batteries are already weak you will suddenly have a machine that does not work, and productivity will stop. Use a battery tester to check the performance of your current battery to make sure that it's in a good condition which will ensure your machine isn't down.

5. UNDERCARRIAGE INSPECTION (TRACK MACHINES)
We understand that the undercarriage can represent 50% of a machine's maintenance expenses, therefore proper undercarriage maintenance in the winter is essential. Ensure that daily inspections continue to be carried out with operators being extra vigilant in removing debris and mud and making sure there are no loose or worn parts.
Regardless of your machine doing winter work or not, you should make sure it gets an undercarriage inspection regularly.
Contact Us for your Free Undercarriage inspection today.
Get in touch with an expert


6. CHECK THE CAB
Before the cold mornings hit us ensure that the cab heaters are working to maximize operator comfort and when operating the machine make sure that there is no ice or fog on the windows obstructing operator's visibility.

7. PROTECT YOURSELF
Your machine may be in great condition, but all that effort goes to waste if the operator is not. So, take extra care you do not slip walking across site, entering and exiting the machine and wear gloves as touching cold metal surfaces with bare skin can cause serious pain and damage to your hands.

8. THE ENVIRONMENT
Remember that the weather also effects the environment you are in. Deep frost can make digging very difficult and can put a lot of strain on your machines components. Wheels and tracks can also slip much more easily on frozen or icy grounds causing damage to other machines, structures or people.
Preparing your machine for the winter can help to reduce machine downtime and save you money on costly repairs. Make sure you check out our promotions page to see how SMS Equipment can help you get winter ready.