SMS Equipment is setting the tone for 2019 with exciting developments throughout our organization. In January, SMS Equipment brought on Brad Beebe as Chief Operating Officer. Brad brings 20 years of experience from the oil and gas services sector, manufacturing and product distribution to the position. In February, we promoted Darren Wood to Executive Vice President, Construction West, and Mike Brown to Executive Vice President, Innovation and Advanced Technologies.
SMS Equipment embraces change for one reason – to best deliver on our mission to be the number one equipment and solutions provider, growing and leading customer support not only within Canada but also in Alaska and the remote reaches of Mongolia. The construction and mining industries along with advanced technologies are changing every day, and SMS Equipment is actively evolving to serve our forward-thinking customers.
As part of our facility changes, we are expanding the SMS Equipment Val D'Or facility in Quebec by 6,000 square feet, adding two new service bays, a parts warehouse and new offices on the second floor.
This expansion will provide the means to support increasing sales, which have more than doubled in the past three years.
As a company, our service capabilities also continue to grow. We employ over 1,000 qualified trades, including 577 heavy equipment technicians and a field services fleet that includes more than 500 vehicles. In 2018, SMS Equipment technicians logged nearly 10 million kilometres attending to the needs of our customers, regardless of location.
As we focus on change, we cannot ignore some of the economic headwinds that face our industries such as the upcoming provincial and federal elections; lack of pipeline capacity in Western Canada; talks of trade wars between the United States and China; Brexit and the future of the European Union; and the possibility of further interest rate increases by the Bank of Canada.
However, we remain optimistic as Canada continues to benefit from low unemployment rates, the approval of the Kitimat LNG Terminal in British Columbia and the announcement of the $2.6 billion Aspen project by Imperial Oil in Northern Alberta. We are also very excited about the debut of two highly anticipated machines. The first-ever Komatsu 980E-4AT autonomous (driverless) haul truck – which at a 400-ton load capacity is the largest haul truck that Komatsu makes – will go into production in the oil sands this spring, with additional autonomous units beginning operation throughout the year and into 2020 and 2021. The D375AXi-8 dozer will also hit the market this year. The D375 will be the largest dozer to feature Komatsu's groundbreaking intelligent Machine Control, which features semi-automation and integrated GPS capabilities.
Change will always be prevalent in our industries, presenting opportunities for growth and development. Rest assured that SMS Equipment is actively adapting and is ready to guide your business, providing solutions for your most challenging needs. We are your number one solutions provider.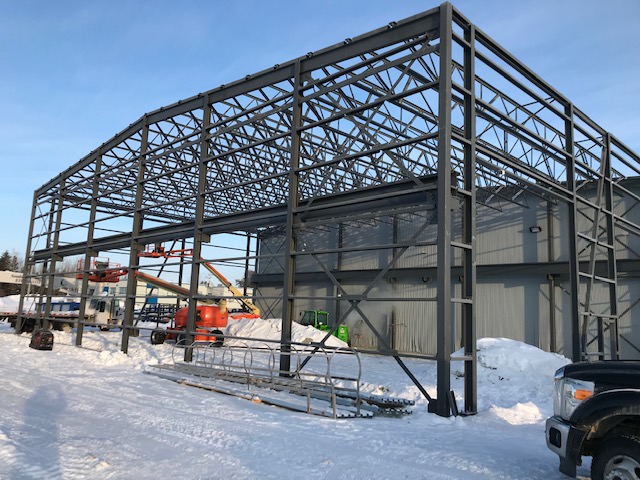 Val d'Or Expansion