During the past couple of years, the Sherwood Park Rams Football Club grew significantly, adding a PeeWee program that expanded the club to three teams, including one in both the Bantam and Atom leagues. It also boosted participant numbers from approximately 30 kids to more than 150.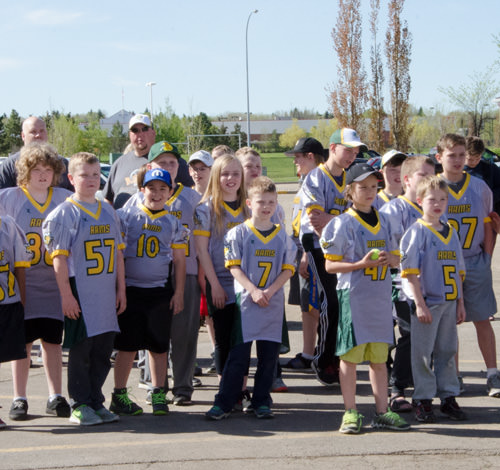 About a year ago, we were practicing at the same time as one of the Bantam teams – which is older kids and has been around for 50 years – and sharing the field," recalled Frank Miller, who is an SMS Equipment Sales Rep and a Co-Coach of the PeeWee Junior Rams, along with Carmen Koop. "It was obvious we were running out of field space.
It so happened that around the same time, Bethel Lutheran Church Pastor James Avery and his congregation were looking for a way to better utilize a large tract of land that Bethel Lutheran owned. The church has long been a supporter of youth athletics in Sherwood Park, Alberta, and runs soccer and football camps during the summer.
"We considered increasing our footprint in the sporting community," said Avery, who has coached football in Strathcona County for nine years and crossed paths with Miller and Koop several times through the football community. "Carmen and I sat down with some members of the congregation, started to dream and asked what it would look like if we put a field on our land."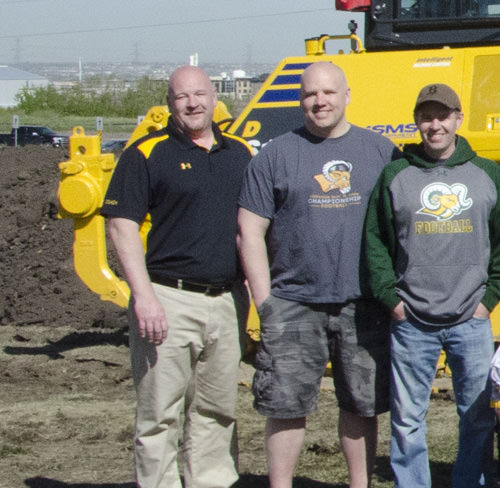 Avery contacted Bruce Williams, a church member and landscape architect, about creating a design. The final product turned out to be more than just a new football field.
"That's the centerpiece, but the field is actually part and parcel of a total, future development plan that includes skating areas, playgrounds and more," shared Williams. "There is a shortage of practice fields, in general, for sports in Sherwood Park, and we see this as a way to alleviate some of that. Our vision is that it will be used for more than football. We hope soccer, lacrosse, field hockey, ultimate Frisbee, other leagues and individuals take advantage of its availability. This area will have a great impact on the community."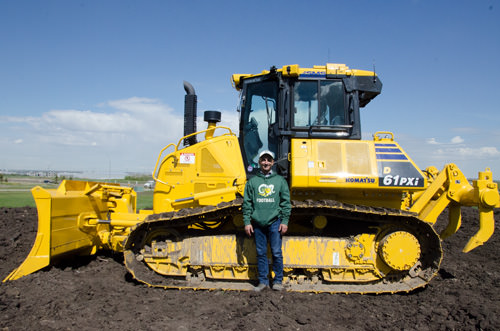 SMS Equipment donates the use of a D61PXi-24 dozer
From church members to parents of players to businesses, the community rallied around the project. Many donated time, material, machinery and effort to its construction. Among them was Colin Schmidt with TerraPro, who offered equipment and time for site grading.
When Miller found out that Schmidt was interested, he contacted him regarding the possibility of collaborating on the project with the use of a SMS Equipment intelligent dozer and the experience of TerraPro's foreman to operate the machine. Schmidt, Miller and another SMS Equipment Sales Rep, Troy Gallagher, coordinated the logistics of getting the machine on site, set up and ready.
The D61PXi-24 features factory-integrated GPS grade control technology that eliminates the need for the masts and cables associated with traditional aftermarket systems. It runs from rough-cut to finish grade, automatically adjusting the blade to maximize the load.
Once the field design file was plugged into the machines, TerraPro's foreman went to work. Without surveying or stakes, he completed grading in two days.
"The time savings compared to using a standard dozer with stakes, surveying and checking grade was significant," he said. "It was the first time I ran an intelligent Machine Control dozer, and I was impressed. The accuracy was spot-on, and being able to use the grade control from start to finish was fantastic. It allows for even new operators to be productive right away."
Gallagher added, "The D61i and other intelligent Machine Control dozers are perfect for projects like this. SMS Equipment is extremely pleased to be having played a role in it. As a company, we take great pride in giving back to the community."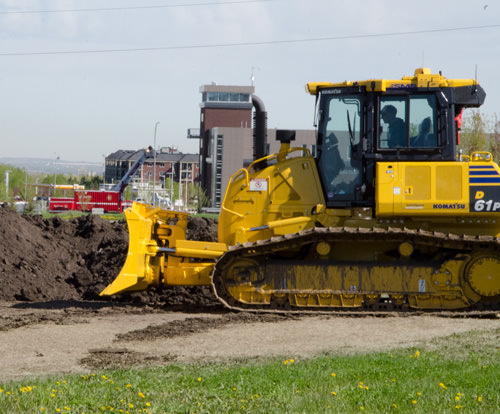 Obvious benefits
Strathcona County offered its loaders to move materials, Boyd's Excavating lent the use of trucks to haul out dirt and Manderley Sod supplied down sod while Big Lake Sod donated manpower for laying down the sod.
"It's absolutely fantastic how everyone got behind this," said Koop. "They turned it into a turnkey project that was done relatively quickly and at minimal cost. We expect to be using the field in early August when football practice starts again, and there are plans to build a clubhouse in the near future."
Player parents, such as Cindy Kooznetsoff, say the benefits of the new field are obvious and extend beyond football.
"Sharing space was cramped, and sometimes the PeeWee team had to use county fields if the Bantam team was practicing. This gives the PeeWee kids a home base to call their own, and it will provide a new place for other sports and recreational activities as we go forward. It's a great use of available land and a true testament to everyone's commitment to build something the entire community can enjoy."