After forging through the recent economic downturn in Western Canada, 2017 brought welcome relief. We recognize your commitment and hard work to pull our economy from one of the toughest times it has ever endured. For all of us, perseverance was rewarded as recovery began in earnest this year.
While the recession was challenging, it taught some valuable lessons we can apply to our operations. It forced companies across the country to develop more efficient methods and to focus investments. This resulted in decisions to purchase equipment that is reliable, fuel-efficient and backed by top-tier service. We are honoured that you turned to SMS Equipment to accomplish that objective. Because of your confidence in us, we have been able to grow along with the recovery and gain recognition throughout both the construction and mining industries.
Like you, we took time to reflect and discover what we could do to continue to meet our customers' interests. We reaffirmed that our products and our people set us apart from the competition. With top-of-the-line equipment already on hand, we continued to invest in our employees and make organizational changes to adapt to your changing needs. One significant change is the creation of a new position, Vice President of Innovation and Advanced Technologies, to grow our focus and support the ability to bring more of our manufacturer's technologies to you.
We also invested in infrastructure in 2017, with the grand opening of the new Laval, Quebec facility. The state-of-the-art branch will serve the area in a way that we could not before. We celebrated the 10th anniversary of our Acheson, Alberta branch in August and welcomed Sundeep Bhangoo, our new Chief Financial Officer, into the fold as well. As we enter 2018, we will continue to invest in the areas that help us meet your needs.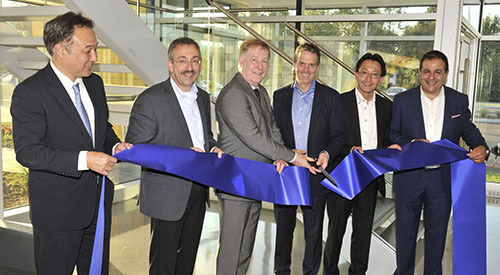 From left to right Kenichi Hyuga, Sumitomo Corporation of Americas; Mike Granger, SMS Equipment, Canada; Marc Demers, Laval Mayor; Alain Bédard, SMS Equipment, East Region; Koichiro Hihara, SMS Construction and Mining Systems Inc.; Dario Montoni, Montoni Group
Recaps and predictions are common at this time of the year, but we know there is still work to be done. Cold temperatures coupled with the harsh weather that comes with the winter work season make jobsites even more challenging. Fostering safe working environments is paramount to the health of our industry. At SMS Equipment, we expect to achieve and retain best-in-class safety performance. You can be sure that when SMS Equipment employees visit your sites, they will operate in a safe and responsible manner.
With the holiday season upon us, I would like to take a moment to thank all of you for the continued support and commitment to our company. Your loyalty and partnership is the best gift we could receive. Thank you for a great 2017, and we look forward to working with you throughout an even better 2018!
Yours sincerely,
Mike Granger
President & CEO