Electrification
Many of today's major OEMs have long anticipated the need for cleaner, quieter, yet equally powerful machines and responded with an influx of technological expertise unseen since the advent of diesel units themselves. The result is a future that is already here and currently at work in construction, mining, roadbuilding, demolition operations and more.
From compact machines that provide quiet, clean operation in smaller utility applications, to massive electric mining shovels capable of leveling a mountain, the e-machine revolution is ongoing.
Watch video
Diesel Electric Hydraulic Excavators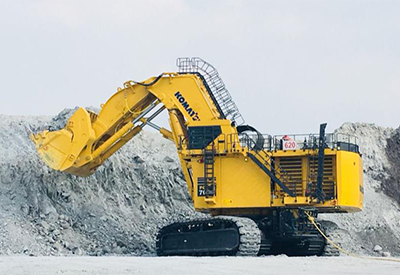 Electric drive hydraulic shovels are built to meet the demands of the most rugged mining operations. The proven quality electric motor replaces the diesel-fueled engine, resulting in high productivity and lower operational costs.
Trolley-Assist Electric Drive Trucks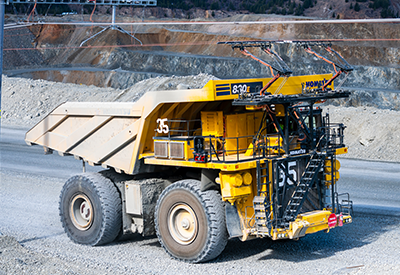 Using an overhead catenary line, the trolley-assist system transfers cleaner electric power directly to the wheels of a diesel-electric haul truck. When trolley-assist mode is engaged, the truck's diesel engine is bypassed entirely resulting in an up to a 70% reduction in fuel consumption, nearly 2X faster uphill speeds, increased haulage production, dramatically lower CO2 emissions, reduced noise, lower operating costs, and more.
Komatsu GHG Alliance
Through the alliance framework, Komatsu's GHG partners will work directly with Komatsu to actively collaborate on product planning, development, testing and deployment of the next generation of zero-emission mining equipment and infrastructure. The alliance's initial target is advancing Komatsu's power agnostic truck concept for a haulage vehicle that can run on a variety of power sources including diesel electric, electric, trolley (wired), battery power and even hydrogen fuel cells.
Reach out to us for more information
Please provide your contact information and we will be in touch shortly.