University names "Auto Repair Laboratory" after Transwest Mongolia LLC in appreciation of sizable donation
Transwest Mongolia LLC is committed to the development of future mechanical engineers by improving their learning environments, supporting them to acquire quality education, and supporting the education sector in Mongolia overall. Demonstrating this commitment, Transwest Mongolia LLC completed a renovation of the Auto-Repair Practice Laboratory at the Mechanical and Transportation School of Mongolian University of Science and Technology (MUST) over summer break and presented it back to the university before the new academic year started in September.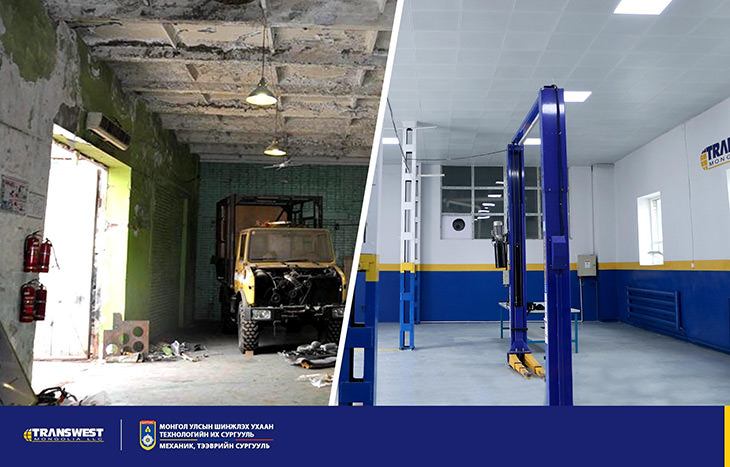 As a result, over 500 students studying auto engineering at MUST will have practical experience in diagnosing, servicing and repairing cars together with their peers under their professors' supervision.
In appreciation, school administration announced that they named the Auto-Repair Practice Lab after Transwest Mongolia LLC.
Ph.D. Tsevegjav D., Dean of the Auto-Engineering Faculty said, "For students who are studying in the technical or engineering fields, it is very difficult to gain knowledge only through classroom sessions. They have to do training in real life to solidify their theoretical knowledge. Therefore, it is important for any academic institutions like us to provide the environment where students can practice and learn.
We used the Auto-Repair Lab for this purpose for many years but due to lack of financing, the maintenance of the lab was neglected and it became very difficult for us to do trainings inside. Fortunately, Transwest Mongolia LLC kindly accepted our request to renovate the lab and during the summer break the project was completed. Our school staff and students are very content and I would like to thank Transwest Mongolia LLC on behalf of everyone."