WA500-8 features high production, low fuel consumption in a variety of applications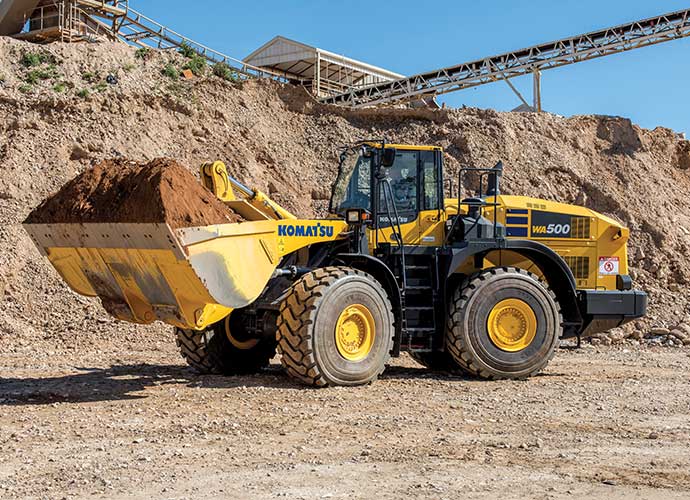 Wheel loaders perform a variety of tasks in a wide range of applications and Komatsu's WA500-8 provides optimal efficiency and high production under all types of conditions, according to Adam Braun, Komatsu Product Manager, Wheel Loaders.

"Although the WA500-8 has a higher horsepower than its predecessor, it burns 5 percent less fuel," said Braun. "It's highly efficient even when tackling heavy loads. It was made for loading on-highway trucks or smaller rigid trucks in quarries, articulated trucks on construction sites or load-and-carry applications."

Contributing to greater efficiency is a Komatsu-designed bucket with capacity increased to 6.3 cubic meters, according to Braun. Its deeper heel and inclined floor make it easier to fill and retain material. These help drive efficiency and productivity gains of up to 10 percent compared to the previous Dash-7 model.

Braun added that operators appreciate that they rarely need to stop the machine to regenerate. The WA500-8 has a Komatsu Diesel Particulate Filter (KDPF) and other aftertreatment components that work with the 263-kilowatt engine for efficiency and long life. More than 90 percent of KDPF regenerations are performed passively, with no operator action required and no interference with machine operation.

Large-capacity torque converter
The Komatsu-designed power train has a large-capacity torque converter for optimum efficiency, including in V-cycle applications because the increased tractive effort does not require full throttle. It allows operators to up-shift gears faster for improved acceleration and hill-climbing ability. When working in load-and-carry applications, the loader achieves high gear ranges and maintains high travel speeds.
The torque converter features a lock-up function that activates in second, third and fourth gears and is effective for both load-and-carry and V-cycle work. Additionally, Komatsu's SmartLoader Logic reduces the clutch engagement shock of the lock up by controlling engine torque.
"As a result of this combination, fuel burn is reduced," said Braun. "All components are Komatsu designed and manufactured, so they are made to work in harmony for optimized performance, as well as for reliability and long life."
Braun emphasized that Komatsu also designed the WA500-8 for durability. He said it offers a solid foundation for specialty WA500-8s, such as the yard loader or high-lift boom arrangements.
Braun pointed out that attention to details makes a difference, too. "We still incorporate a metal roof so operators are shielded when working in dangerous environments, like industrial plants, where products such as slag are present and may produce sparks. Protecting hydraulic lines and the wiring harness were factored in as well. Of course, we will work with customers on configuring the loader to their needs, such as adding wider tires to the WA500-8 for added stability."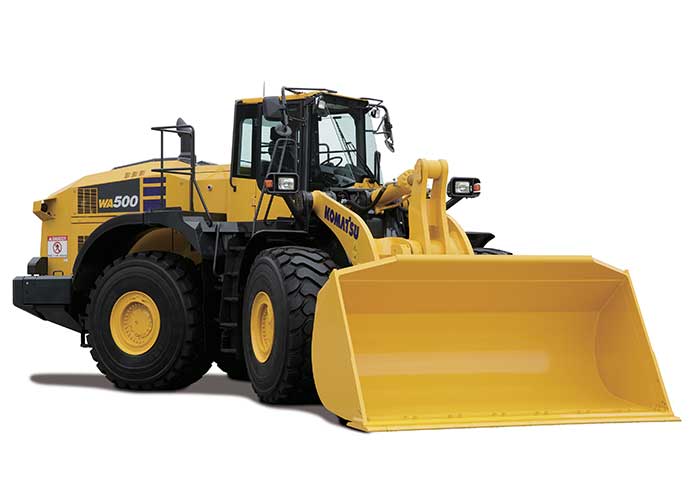 Quick Specs on Komatsu's WA500-8
Horsepower
263 kW

Operating Weight
34,880-35,315 kg

Bucket Capacity
4.5-6.3 cu meter

View more specs