Milling bits for cold milling machines
Up to 30% off Pallet Pricing on Milling Bits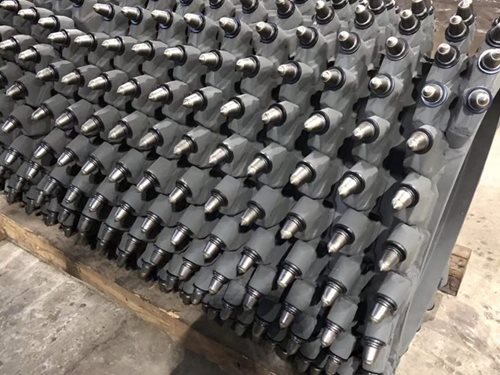 Watch how individual premium milling bits undergo a heat treatment process to guarantee wear and fracture resistance of the cutter body.

Watch Video
Order today and take delivery in time for the milling season.
When the road milling machines are working, high quality milling bits are critical to success. Ensure you pre-order your bits today to guarantee a successful paving season in 2022.
Select from a range of application-specific milling bits that offer unparalled performance, and high wear and impact resistance for road milling of asphalt or concrete. Learn more about the milling bits features below.
Don't get caught without your bits!
Call Us
Request a Quote
Premium Milling Bit Features
The tungsten-cobalt alloy ensures the wear resistance and fracture resistance of the cutting bit.
Excellent flow soldering process to ensures weld strength.
Patented design of the body improves the efficiency of retraction.
Patented design ensures smooth rotation.
Heat treatment process to guarantees the wear resistance and fracture resistance of the cutter body.
Gasket design ensures the long life of toolholder.
Thickening of the sleeve, ensures moderate tension and clamping force.
Easy installation and removal.
Download Product Brochure