BOMAG refuse compactor delivers optimum compaction to maximize landfill capacity
Landfill managers know one of the keys to success is compaction. Driving innovation for the industry, BOMAG compaction machines utilize leading-edge technology to provide a high-quality finished product at a cost-effective price. Recently, BOMAG introduced the
BC 473 RB-5 refuse compactor
, which sets the standard for the landfill compaction industry.
The machine was designed specifically to take on the challenging conditions encountered at landfill sites. It delivers optimal distribution and compaction of refuse to achieve the best utilization of capacity and extend the lifetime of a landfill. The high levels of compaction are achieved through several innovative technologies.
"The purpose-built landfill machine showcases BOMAG's understanding of compaction in the design of both the compaction wheels and machine in order to differentiate itself from the competition," said Garry Phenuff, Product Manager, SMS Equipment. "All the challenges of working in a landfill site, from protecting the machine to managing the airflow to the engine, are engineered for."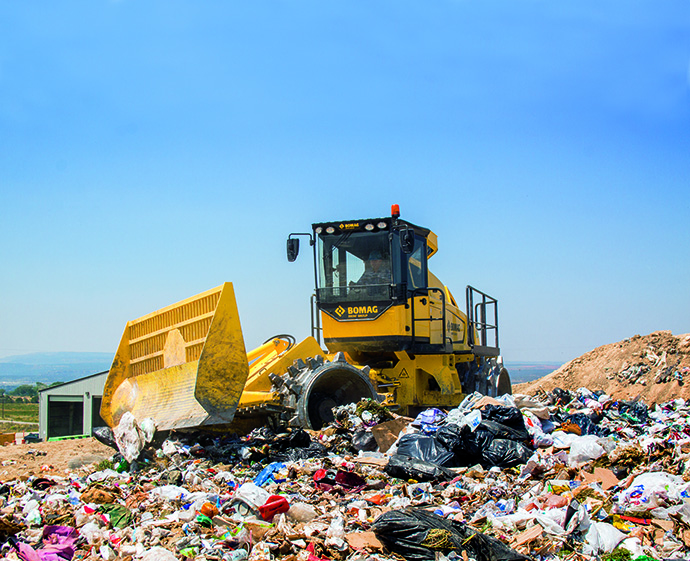 Industry-leading technology
The BOMAG BC 473 RB-5 refuse compactor comes standard with an innovative compaction concept, cooling system and telematics program.
The compaction system is comprised of scrapers, polygon rings and toothed wheels that keep debris from adhering to the machine and deliver higher levels of compaction. An articulating and oscillating center joint optimizes load distribution and traction among all four wheels for efficient handling and weight distribution. Offset wheels ensure that the entire compaction surface is covered, and gaps left by the wheels are closed completely on the second pass.

The upgraded cooling system keeps the machine running efficiently and increases fuel savings. By adapting airflow to the required cooling performance based on demand, owners can see up to a 5 percent increase in fuel savings. Further, the system incorporates a reversing function to reduce cleaning efforts and maximize machine availability.
Industry standard telematics allow the machine's status to be viewed from any device. Telematics deliver key information so that owners and managers know where the machine is located, how it is being used and when it needs servicing.
Weighing 26,000 kilograms,
the BOMAG BC 473 RB-5 refuse compactor
is the right fit for landfill environments. Two blade options provide the versatility to work with multiple materials year-round. The compactor prevents operator fatigue with a flexibly mounted cab, ergonomically designed interior and low sound pressure level.
A new hydraulically actuated hood makes service access safe and easy. The machine meets all safety-related requirements for everyday use on landfills and is adaptable to any job through a range of options.